By Jessica R. Key
The beginning of a new year is often filled with excitement and promise. We don't know what the future holds, but we do our best to start on the right foot.
The first quarter of 2016 isn't just new — it's also a time to celebrate Indiana's bicentennial. What better way to celebrate this exciting new year than to spend some well-earned money on new items for your wardrobe?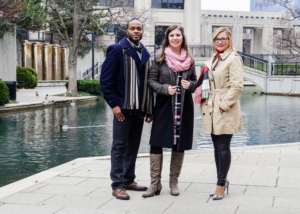 Have you always wanted a designer winter coat? Get it. Did you see a pair of boots that would go perfectly with an ensemble that is in your closet with the tags still on it? Get out your card and swipe away. Want to reward yourself for eating well during the holidays? Head to your favorite store and grab an eye-catching outfit.
This edition of the Indiana Minority Business Magazine features professionals who are helping prepare Hoosiers across the state for Indiana's 200th birthday and are cementing plans to ensure a bright future for residents.
These Hoosiers are showcasing hot seasonal trends. Don't know what to buy yourself to start the new year in style? Let these Hoosiers be your guide.
All clothing provided by JCPenny.
Acknowledgements
Empire Beauty School, Eugene and Marilyn Glick Indiana History Center, JusFam Photography, Makeup by Rachel Langford, Stylish by India.