By Kelly Patrick Slone
Action Custom Straps in Indianapolis got its start when Terry Misner bought a camera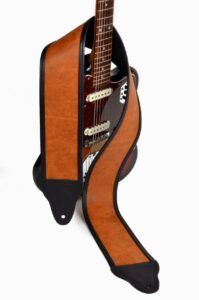 but had trouble finding a worthy strap for his new device. Misner bought leather to fashion his own strap, which sparked the creation of a custom camera-strap company. Years down the line, Misner, his wife Dena, and their two grown children run the business, which now focuses mainly on guitar straps. Artists Jimmy Buffett, Keith Urban, Jewel, Miranda Lambert and Billy Corgan are among the famous guitarists wearing these Hoosier-made straps.
Hoosier Bat Company has two of its baseball bats in the National Baseball Hall of Fame and Museum in Cooperstown, New York, including the bat Sammy Sosa used during the famed homerun chase with Mark McGuire. The Valparaiso company, which has been "turning batters into hitters since 1989," sells wooden bats to dozens of Major League Baseball players each season, plus minor league, college, high school and youth teams. The company also ships its wares to Canada, Germany, Japan, Mexico, Sweden and more. Another claim to fame: Hall-of-Famer Frank Thomas hit his 500th homerun with a Hoosier Bat in 2007.
Little Crow Foods was founded in 1903 as a flourmill, but later created some grocery items that became household names. Although this Warsaw company no longer operates, its iconic items are still manufactured and can be found on grocery shelves across the country. Little Crow Foods creations include Coco Wheats Hot Cereal, Fryin' Magic and Bakin' Miracle seasoned coating mixes, FastShake buttermilk pancake mix and Miracle Maize cornbread and muffin mix.
To qualify as bourbon, whiskey must be made from at least 51 percent corn and aged in new, charred oak barrels, among other specifications. That's why W.H. Harrison Indiana Bourbon says there's no place like the Hoosier state — with its abundant corn and oak — to make bourbon. This bourbon is named for former United States President (and Governor of the Indiana Territory) William Henry Harrison. The product is made by Tipton Spirits in Brazil, Indiana, and is available for sale in about 15 states (including Indiana).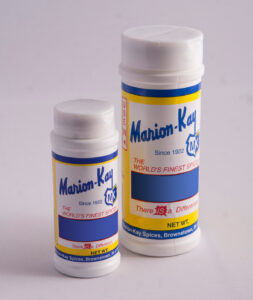 Who says the Midwest is bland? Marion-Kay Spices would beg to differ. The family-owned company started in Missouri in 1922, but has called Brownstown, Indiana, home since 1949. The company started out making vanilla extract, but after moving to Indiana business expanded into a full line of spices. In addition to developing a well-known "sneezeless" black pepper, Marion-Kay Spices created the custom blend of chicken seasoning for Colonel Harland Sanders, found of the Original Kentucky Fried Chicken.