EDUCATION SERVICES FOR The YOUNGEST HOOSIERS
by James Figy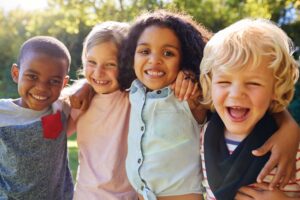 Companies and organizations that serve families carry a hefty responsibility. It goes beyond customer satisfaction to ensuring the products and services are safe and beneficial to children and parents.
For Seana Murphy, vice president of program operations for Early Learning Indiana, this means providing exceptional learning opportunities for children at Day Early Learning centers. The 10 central Indiana locations provide play-based, pre-kindergarten curriculum that focuses on teacher-child interaction, exploration and social development.
"The most important opportunities and impacts we can make are to work with children in the very early years," Murphy said. "The foundations that are built when they are in a high-quality, education-based environment really set the stage for their success as lifelong learners."
Day Early Learning also provides resources for parents, including meetings with staff, informative publications, a texting program, blogs and social media outreach. The organization believes parents should be involved and understand how to assist children with learning and working through tough issues.
"We are reinforcing what we fundamentally believe, and that is that the parent is always the child's first and most important teacher," Murphy said. "In the long term, we work to make sure that parents know all of the different community resources that are available to continue the child's growth outside the classroom."
Elizabeth Isonhood, owner of the Spanish Advantage Club, believes that learning a second language is incredibly important. But it's equally important, she said, for parents to have peace of mind about their childcare.
The Spanish Advantage Club, located just east of Fort Harrison State Park, provides pre-kindergarten daycare and Spanish classes for adults. But its main services are Spanish-language tutoring, after-school care for students in kindergarten through eighth grade and summer camps for children, said Isonhood, who also teaches at Forest Glen Elementary School in Lawrence. The after-school program provides one trained teacher per grade level to assist students with homework.
"Our service guarantees parents that they will go home after a long day to spend quality time with their children with no need of battling homework or studying for tests," she said.
Providing parents with peace of mind also is important to Ashley Martz, owner of Nurture Baby & Child in downtown Indianapolis. Before buying the retail storefront from its previous owner, Martz stitched kids' clothes for her online customers, creating unique designs that wouldn't irritate sensitive skin.
"The biggest issue is definitely safety. Especially for young children who are exploring the world by putting everything in their mouths, we have to make sure we provide a safe store environment along with products that meet current safety standards," she said.
Nurture sells clothing, toys, blankets, bibs and many other items for young children and their parents. Although catering specifically to young children comes with concerns, it also provides plenty of joy, according to Martz.
"You see a lot of smiles in such a cheerful environment, and customers are usually happily anticipating the arrival of a new family member or celebrating a birthday or another happy occasion," she said.
Lori Gagen, executive director of Black Pine Animal Sanctuary in Albion, enjoys helping families experience wonder when learning. But for Black Pine, the public education component is important but secondary.
"The animals always come first, and we don't buy, sell, breed, trade nor seek out animals, nor use them for entertainment or commercial purposes," she said.
To balance these missions, Black Pine Sanctuary instituted an ambassador program last year, which requires one person in each group to chaperone. This ensures all visitors, including children and parents, learn how to interact respectfully with animals.
"It is truly awesome to bear witness to a proud parent in those moments," Gagen said. "Knowing our visitors have the opportunity to learn how their behavior might have a very negative affect on the animals they came to see is the primary reason we welcome visitors." I