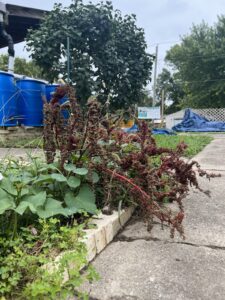 Despite the scorched watermelons, greens and heat-stressed persimmon trees, Alex Sage looks upon the Heritage Community Garden with a smile.
Sage said the community garden in Martindale-Brightwood has struggled with the record-setting number of extreme heat days and many of the crops in the garden have died because of it.
"I was afraid we were going to lose everything," Sage said. "So there was like a week of just panic."
Despite petty thefts and scorched vegetables, Sage tends with joy to the garden as a volunteer in between work schedules and his personal life, doing whatever he can to save the community garden from the heat.
Shade cloths and heat regulating plants have helped, he said, but his okra still isn't as tall as it should be, and his amaranth is still leaning.
Sean Mobley, senior policy associate for climate and clean energy at The Nature Conservancy, said we will see more extreme heat if we don't work to eliminate our carbon footprint, but there are steps to take to mitigate the impacts on agriculture. NASA has established as fact that the Earth is warming at rapid temperatures due to human activities, and global temperatures have roughly a 50/50 chance of raising the Earth's temperature more than 1.5 degrees Celsius, an iconic threshold for the international climate change treaty.
"I think that with extreme heat on the rise with what we're seeing this summer, it's not just going to be lawns dying and needing to put those water bags around trees," Mobley said. "But its impacts to people from heatstroke and things like that, which tend to affect the very young and the very old, a little bit more."
Indiana's forestry and ecosystems aren't meant to withstand such extreme temperature and droughts, Mobley said, and Indiana's colder seasons tend to kill off the insects such as mosquitos that carry diseases. Mobley fears we could see more diseases transmitted from animals to humans — also known as zoonotic diseases — if the ecosystem and its natural cycle are disrupted due to heat.
Cover crops, crop rotation and reduced tillage or no tillage are three practices that scientists agree can help make agriculture more resilient to the changing climate. Cover crops can be used to break up soil and act as a sponge to hold water, which would require less irrigation, Mobley said. Cover crops also prevent sediment runoff into nearby rivers and streams.
A popular practice in Indiana that Hoosiers see, often called crop rotation, helps manage erosion, increase nutrients and improve overall soil health. Many farmers rotate corn and soybean.
Reduced tillage or no tillage prevents carbon stored in the soil from being released, Mobley said.
"Those three practices in combination can make an agricultural operation much more resilient to those negative impacts of climate change," Mobley said.
Contact staff writer Jayden Kennett at 317-762-7847 or email jaydenk@indyrecorder.com. Follow her on Twitter @JournoJay.