Cold temps shouldn't mean that your fashion takes a back seat. Play with texture and color to bring out your personality in the workplace. These looks are sure to make a cool impression.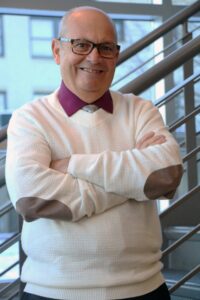 Photographed: Marco Dominguez, Director of Community Relations Financial Center First Credit Union
Layering is a wardrobe tool everyone should have in their arsenal. Mix and match pieces to get more mileage out of them while creating a functional look.
(Shirt, Calvin Klein; Sweater, Club Room)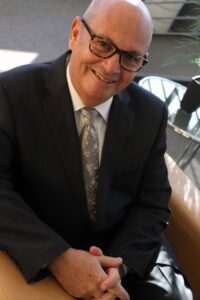 Bring some "oomph" to a simple black suit by choosing a fashionable tie.
(Tie, Calvin Klein)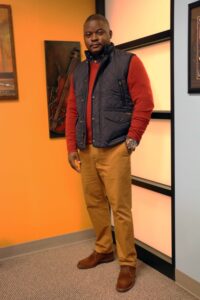 Photographed:  Ivan Baird Jr., Executive Vice President Mid-States Minority Supplier Development Council
Casual Fridays are not the time for ratty sweatshirts and washed denim. Keep it fly by pairing outerwear elements with earth-toned essentials.
(Shoes, Allen Edmonds; vest, Ralph Lauren; shirt, Ralph Lauren; sweater, Club Room)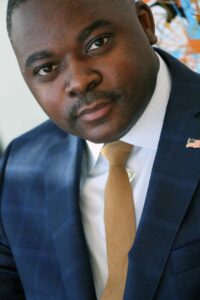 Experts say that blue tones bring about thoughts of trust and tranquility. Take the lead in this wonderful piece accented by a camel-colored necktie.
(Jacket, Brooks Brothers; shirt, ETON; tie, Penguin)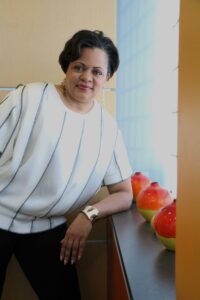 Photographed: Carolyn Mosby, President/CEO Mid-States Minority Supplier Development Council
Elevate basic black and white by choosing a blouse with fun lines and interesting elements. A simple statement piece such as a necklace or this gold cuff takes things up a notch.
(Blouse, DKNY)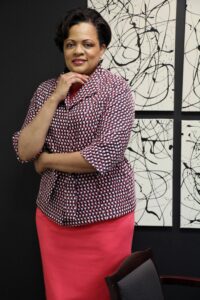 This checkered power suit is anything but stuffy. Chic color combinations like this soft peach against black and white add a bit of feminine flair.
(Suit, Escada)
Special Thanks: Macy's, Saks Fifth Avenue, Mid-States Minority Supplier Development Council, Brittney Marcus (stylist)