City offers live music, handcrafted art and local treats
By Victoria T. Davis
Richmond, Indiana may be known for its antiquing destinations at Antique Alley, which offers more than 1,200 antique dealers along two loop trails, but the city offers much more. Embedded within Wayne County, known as the Crossroads of American History, Richmond offers mural trails, its own music walk of fame and endless shopping.
Check out these attractions, dining and lodging options before your next trip to Richmond.
ATTRACTIONS
Richmond Art Museum
Art lovers of all kinds can appreciate the work on display at the Richmond Art Museum, especially those who adore collections of 19th and 20th Century pieces. The museum was founded in 1898 as the Art Association of Richmond, Indiana and today promotes art culture and appreciation for all ages. As this is said to be "the only independent art museum to be housed within a public school," visitors can screen independent films during the "Art is…" series and take part in the annual Secret Garden Tour highlighting art that exists in local outdoor spaces. In addition, a variety of classes are offered year round such as ceramics, cork and canvas and art camps.
For more information, visit richmondartmuseum.org.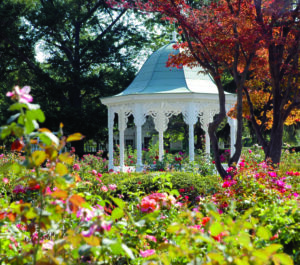 Richmond Rose Garden
Take a break from the stresses of life and smell the roses…literally. The Richmond Rose Garden is open year round and free of charge. In the 1970s the city of Richmond became the self-proclaimed "Rose City" as it's home of Hills Rose Growers. The E.G. Hill Company and the Joseph H. Hill Company together with the Hill Floral Products Company were the premier rose growers and marketers of cut roses. Within the past 25 years thousands of residents and businesses have stopped by to see the over 100 varieties of roses. Last June the garden hosted the fourth annual First Bloom and Glow event with food, music and a variety of hot air balloons.
For more information, visit richmondrosegarden.com.
Richmond Civic Theatre
Visitors to the Richmond Civic Theatre will find a packed house and a stage for everyone's talents during a busy weekend. Popular shows such as "A Few Good Men," "Marry Poppins," "A Christmas Story," and "The Giver" has brought communities together for one special night for over 75 years. The mission of the theatre is to engage, entertain, educate and inspire the community through on stage productions, events and fundraisers.
For more information, visit gortc.org.
Richmond Symphony Orchestra
Visit a professional symphony while you're away from home and receive the gift of music from the Richmond Symphony Orchestra's (RSO) 50 plus musicians. On any given night visitors and community residents can attend a six-season concert series, two annual youth competitions, three children's concerts, and numerous community events. The RSO's signature event, Shake, Rattle, & Roll raised more than $40,000 in 2016 with a 50's-themed flair.
For more information, visit richmondsymphony.org.
DINING
Little Sheba's
Looking for an inexpensive meal with quality ingredients? Little Sheba's might be the place for you as it has been called a classic spot for locals and visitors to dine for lunch and dinner. With a newly added outdoor patio, guests can enjoy live trivia, music and more. As their slogan is, "Better than Being Home," they serve up a variety of salads, pizzas, soups and desserts but the real star lies on the endless menu pages containing numerous cleverly named sandwich options. Many of them are piled high with sliced meat such as the Dr. Jetmore's Flame Thrower and Rene's Spoiled Rotten Brat. Those who'd rather enjoy a sandwich without meat, the Brooke's I Don't Eat Meat sandwich is also available.
For more information, visit littleshebas.com.
Firehouse BBQ & Blues
This barbecue joint is constantly jam packed with customers who want to experience just what the name says: feel good music and delicious food tender enough to fall off the bone. In addition to the aforementioned, a little history lies within the walls. The restaurant occupies the space of a former firehouse that existed for more than seven decades during the Civil War era. The owners are also former firefighters in the City of Richmond and had a great interest in good BBQ, Blues music and the building's history. Five years later guests can find hickory smoked pulled pork, BBQ nachos, burger sliders and of course, ribs.
For more information, visit firehousebbqandblues.com.
Galo's Italian Grill
Serving up Italian staples and wine, locally owned-and-operated Galo's Italian Grill prides itself on always being fresh, and always Italian. Guests can enjoy little to no wait for dining and imported ingredients straight from the source: Italy. Italian pasta, wood-fired pizzas, steaks and seafood can all be found on the menu and guests like to learn that all items are cooked to order and deliver huge portions. Some past visitors's favorites include the lobster bisque and pizza verde.
For more information, visit galositalian.com.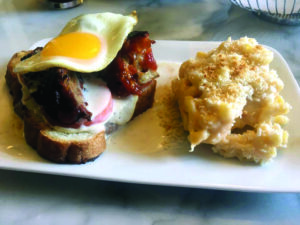 The Kitchen At The Loft
Rated four and a half stars on Yelp, The Kitchen At The Loft is known for their handcrafted cocktails and beers, but often people stay for the food like the open meatloaf sandwich with Mac-n-cheese, jerk chicken breast or the pork tenderloin with au gratin potatoes. In addition they also serve a large brunch on Sundays until 3 p.m. and several specialty items after 4 p.m.
For more information, visit facebook.com/KitchenCocos.
LODGING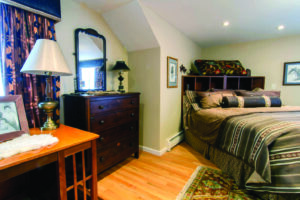 Seldom Scene Meadow Bed & Breakfast
Visitors and residents who simply want to get away will find Leighanne Hahn at Seldom Scene Meadow Bed & Breakfast near the headwaters of the Whitewater River. Five separate bedroom areas and common kitchen, dining room and living room areas are available to guests and reservations include homemade breads, jams, yogurts, proteins and fresh fruits. Seldom Scene Meadow also practices sustainable living values as they serve locally grown foods and the property is supported by solar electric and passive solar hot water systems.
For more information, visit seldomscenemeadow.com.
The Westside Guest House
Hospitality is redefined at The Westside Guest House where families, couples and business visitors are welcome. Mickey White and Cheryl Gibbs, both college professors and seasoned travelers who structured the home after spaces they hoped to find during their travels, operate the property. This bed and breakfast offers all of the conveniences of a home or timeshare rental: full stock of food and other daily needs such as toilet paper and dish detergent. Guests are able to rent spaces, from one to three bedrooms by the night, week or month and pets are welcome with advance notice.
For more information, visit westsideguesthouse.com.