IMBM leader carries torch for Indiana
Indiana Minority Business Magazine President and General Manager Shannon Williams carries Indiana's Bicentennial Torch on the final day of its 92-county journey. In 33 days, the torch traveled 3,148.81 miles before being used to light part of a sculpture on the new Bicentennial Plaza on the grounds of the Indiana Statehouse.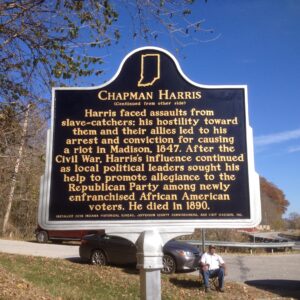 New marker honors Hoosier Underground Railroad operative
The Indiana Historical Bureau placed a new historical marker near Madison, Indiana, commemorating Underground Railroad operative Chapman Harris. Jefferson County Commissioner Bob Little and attendees gathered for an unveiling ceremony in November. Indiana Historical Bureau staff worked on 11 new markers in 2016, seven of which helped commemorate and celebrate African-American history-related topics in the state.
Latino Institute hosts town hall to stand against hate
The Indiana Latino Institute hosted the One Voice United Indiana Latino Town Hall Meeting in Indianapolis to unite the Latino community and stand against the hateful acts, rhetoric and other divisive actions that threaten the Latino community. Around 31 Indiana Latino partner organizations, media and faith-based leaders, and more than 200 members of the community came together in solidarity at the event.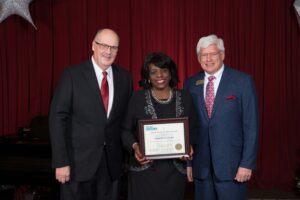 Barrier-breaking journalist given historian award
Eunice Brewer-Trotter of Indianapolis (center) — pictured with William Bartelt (left), Indiana Historical Society (IHS) trustee and awards committee chair, and John Herbst, IHS president and CEO — received the 2016 Dorothy Riker Hoosier Historian Award for researching, preserving and sharing the story of her great-great-great-grandmother, Mary Bateman Clark, who won an Indiana Supreme Court case in 1821 that helped end indentured servitude in the state. Prior to her work as one of Indiana's best-known historians, Brewer-Trotter was the first African-American editor at the Indianapolis Star and was formerly editor-and-chief and publisher of IMBM's sister publication, The Indianapolis Recorder.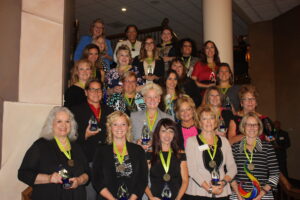 Dozens of 'Influential Women' celebrated in NWI
Hundreds of businesses gathered to celebrate the achievements of more than 25 of Northwest Indiana's business leaders at the 2016 Influential Women of Northwest Indiana awards banquet. The 2016 winners were selected from a pool of more than 200 nominees. This year's Overall Up & Coming Woman of the Year was Kristin Johnson of SecurMAR LLC, and the Overall Influential Woman of the Year was Leane Cerven of Northwest Indiana Bancorp/Peoples Bank.
Utility recognized for diversity efforts
Citizens Energy Group was honored with a prestigious national award at the eighth annual Employee Resource Group conference in Las Vegas, Nevada, for its commitment to diversity. Pictured left to right: Linda Stokes, president and CEO of PRISM International Inc.; Tamiko Kendrick, diversity and inclusion manager at Citizens; Jeffrey Harrison, Citizens president and CEO; and Fernando Serpa, executive director of the Association of ERGs and Councils.