Stay in style this spring with fashion mainstays
By Amber Sapenter
Each spring when the weather warms and the flowers bloom we ditch our winter garb and opt for apparel that is both bright and bold. In the right hands, this combination can look effortless and beautiful but without a fashion compass, this combination can easily be tacky and explosive. No fear, this spring is all about classic styles with an added edge. Take tips from our models Ahmad Moore of Givelify (left), Angela Dabney of United Way of Central Indiana (right) and Mario Rodrigues of Indiana Latino Institute (inside) as they show you which timeless pieces will transition into spring with ease.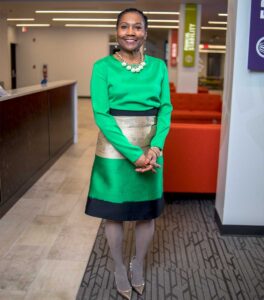 Angela Dabney
Vice President
Transformational Gifts
United Way of Central Indiana
Texture matters and satin is the fabric for spring.  Pair a color block saturated long-sleeved satin blouse with a skirt of similar color but different texture such as metallic (Les Copain) for a winning arrangement. Keep accessories neutral with an understated bronze studded heel (Valentino) and a necklace that will enhance the ensemble.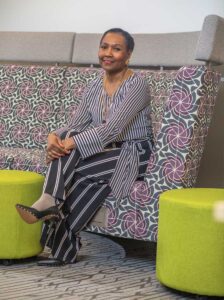 Right: Vertical stripes are on trend this season. Mix and match different size stripes in the same color family and feel free to experiment with the style and design of your overall outfit. This wrap shirt, which pulls at the waist and has dramatic cuffs, carries the picture-perfect contrast against the wide-leg trouser (Alice and Olivia). Finish your outfit with a classic black stiletto (Valentino) that will elongate the leg.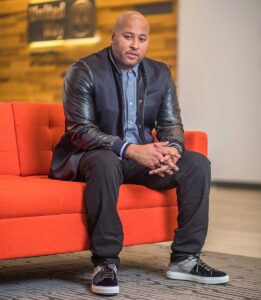 Ahmad Moore
Director of Giving Advancement
Givelify
Keep things casual this spring. This black sports coat/bomber jacket duo (Saks Fifth Avenue Collection) is a great piece to throw over your typical office attire that will give you an in-the-city look in an instant. For a full urban style, trade the hard bottom shoes for a dual-toned printed sneaker (Madison Supply).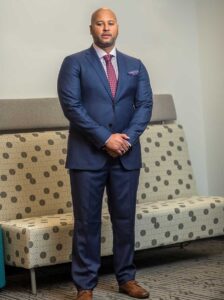 Black and white aren't the only two colors that will pair well with anything. A solid navy suit in a  tapered cut is not only a stylish necessity for every closet but it is also a look that will define your shape. Consider adding dimension by selecting a pastel or printed shirt and a tie in the same hue. Polish off your look with a pocket square or lapel flower that brings it all together (Saks Fifth Avenue Collection).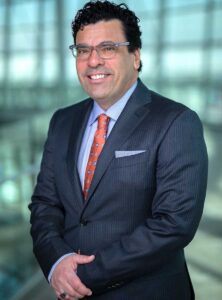 Mario Rodriguez
Executive Director
Indianapolis International Airport
Board Chair
Indiana Latino Institute
Left: When styling a pinstriped suit of any color the one rule to remember is: less is more. Preserve your professional look by selecting a solid color dress shirt in a traditional fabric like pinpoint oxford or broadcloth. When you're ready to add in some flare choose a vibrant necktie or pocket square — but not both — for an understated look. (Saks Fifth Avenue Collection).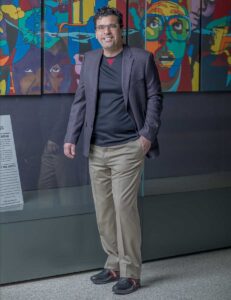 Ready for some fun? Get sporty with this simple and sleek crewneck shirt (Salvatore Ferragamo) and matching tennis shoes (Bally). Dress this look up with an off-the-cuff textured blazer (Saks Fifth Avenue Collection) and you will be ready for whatever comes your way. 
Special Acknowledgements:
Shyra Ely
Bayette George
Saks Fifth Avenue
United Way of Central Indiana
Indiana International Airport