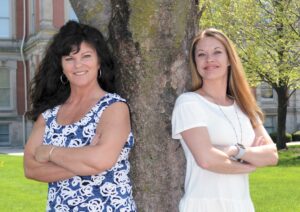 By Diana Lamirand and Brittany Paris
Deadline after deadline. Job after job. Boss after boss. We honed our journalism skills by clocking in long hours for someone else. We've worked at big corporations, startup companies and small town newspapers. We've freelanced and picked up odd jobs. More than once, we witnessed mass layoffs and newsrooms shutting down virtually overnight.
Those years of work experiences taught us many lessons. We learned firsthand the importance of meeting deadlines and planning projects, why website optimization and social media matter, and how to effectively manage and mentor other writers. 
It also instilled in us the value of perseverance and strong partnerships, attributes that serve as the cornerstone of our content marketing business.
We worked together for years as magazine editors, taking turns as each other's mentor and manager. Within days of suddenly losing our long-time jobs to layoffs, we came up with a plan to launch our own company. 
Challenging our comfort zones
When you earn a college degree and work in a industry that struggles to stay relevant, you must constantly adapt and learn new things. Our job roles shift as the world of online news and tech evolves, forcing us to quickly establish ourselves as experts in website content, site engine optimization and social media. It's a brave new world for some old-school print journalists at heart, but we love learning new things. 
We excel at our craft and love it, but we honestly knew very little about running a business. Sure, our years of editorial planning and managing a national magazine come in handy when creating a client's content strategy or hiring freelancers, but tasks like filing business taxes pushed us way out of our comfort zones. We're not salespeople by nature, so learning how to close a deal and negotiate contracts proved challenging at first. 
Persisting through adversity
Much like working as a reporter, entrepreneurship requires tenacity and thick skin. We've encountered many frustrations over the past couple of years that could have broken us, yet we never gave up.
During Red Pen's first year in business, we learned a valuable lesson about business partnerships. In exchange for building our website, we created editorial calendars and multiple pieces of ongoing content for a local marketing agency's clients. We spent months nurturing relationships with a dozen of their clients, producing website content and blogs they raved about and making significant improvements to their content strategies. It was a lot of immediate work to tackle as a new business, but we were determined to do it well.
Then, out of the blue, the agency rescinded the ongoing content agreement. Suddenly, the upward projection for Red Pen came to a screeching halt and our website stopped functioning. Unbeknown to us, the web developers included proprietary code that made merging to a new host a nightmare.
That news could have devastated our little start-up, but we didn't let it. Using connections we've established over the years, we found a trustworthy and reliable website developer to fix our website. And those former clients? Many sought out our services and we continue to create quality content for them today.
Persisting through adversity as a new business takes some mettle and a commitment to succeed. 
Capitalizing on connections 
We credit our success so far to the connections, personal and professional, we've made over the years. One of our successful agency partnerships came courtesy of another amazing editor we worked with at our last job.
A former boss recently referred another client, and we've hired several colleagues to help with assignments. Old staff members frequently share our social content and spread the word about our company. By truly caring about everyone we've worked with and always delivering our best effort, we've created a lifelong network of people who support us in this new venture. 
Ultimately, it's the partnership between the two of us that sets our business apart. We're close friends, above all else, who respect and trust each other tremendously. 
Despite our different demeanors, we're both driven and share a relentless work ethic. It's a yin and yang balance that's afforded us a whole new career path. For once, we can't wait to see what the future brings.
Brittany Paris and Diana Lamirand founded Red Pen Inc. in January 2017. Serving clients in a wide variety of industries across the country, they write business blogs, website content, newsletters and press releases. To learn more, visit redpencontent.com.