Small-town life near the Windy City
By Ebony Chappel
Munster, the cool town with an even cooler name, boasts the best of both worlds. It's small (population less than 25,000) and accessible, but it's less than an hour from one of the best cities in the world. It has great schools, a booming business sector (both Pepsi and General Electric call Munster home), a growing food scene and family-friendly cultural amenities. Some of the highlights include the newly constructed Centennial Park and Edward P. Robinson Community Veterans Memorial.
ATTRACTIONS
Lakeshore Community Concerts
Munster High School
8808 Columbia Ave.
Munster, IN 46321
lakeshoreconcerts.org
Formerly known as the Northwest Indiana Concert Association, Lakeshore Community Concerts has brought a variety of specially curated live performances to the Northwest Indiana and Chicagoland area for more than six decades. Shows are currently held at the Munster High School auditorium. For $75, attendees will not only receive admission to six Lakeshore shows, but will also have access to shows presented by LaPorte, Valparaiso, Portage and Warsaw concert associations.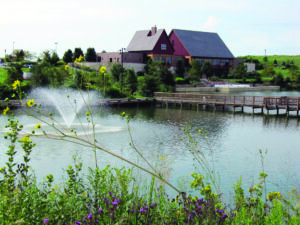 Centennial Park
1005 S. Centennial Drive
Munster, IN 46321
centennialparkmunster.com
This 200-acre expanse is considered an "all-inclusive playground," as it features activities for visitors of all ages and varying interests. There is a nine-hole golf course, complete with driving range, designed by renowned golf course architect Tim Nugent; huge soccer fields; walking paths; gardens; a dog park; a full-service restaurant with outdoor seating; an entertainment stage and much more.
Theatre at the Center
1040 Ridge Road
Munster, IN 46321
theatreatthecenter.com
Theatre at the Center, the region's only professional theater, produces five shows a year, ranging from Broadway standards, musicals and other offerings aimed to entertain. "Annie Warbucks," the sequel to the iconic "Annie," runs until Dec. 18, and on Dec. 31, rock music lovers can bring in the New Year at Echoes of Pompeii, a live Pink Floyd tribute. Tickets for individual 2017 season shows go on sale Dec.13. Next season's offerings include "My Way: A musical tribute to Frank Sinatra" and "Cabaret." Call (219) 836-3255 or visit theatreatthecenter.com for more information.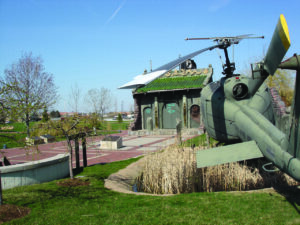 Edward P. Robinson Community Veterans Memorial
9710 Calumet Ave.
Munster, IN 46321
communityveteransmemorial.org
Community Veterans Memorial is a 6.5-acre park featuring bronze and granite sculptures, a walkable commemorative brick pathway and life-size monuments to depict the major military conflicts that shaped the 20th century. Scenes from the trenches of World War I, the Pacific beaches and European battles of World War II, the extreme weather and combat conditions of Korea, the rugged brutal fire fights of Vietnam, and the sandy sea of Desert Storm are all on display. Individuals and groups are invited for self-guided tours with pre-recorded information about the defining wars of the 20th century. Guided tours are also available. The memorial is open daily from dawn until dusk, and admission is free.
DINING
Three Floyds Brewing Co. & Brew Pub
9750 Indiana Pkwy
Munster, Indiana 46321
3floyds.com
Beer lovers looking for something a bit off the beaten path can enjoy "not normal ale" at Three Floyds Brewing Co. & Brew Pub. Recently, the award-winning brewery (ranked fourth in the world in 2014 by RateBeer) unveiled an exclusive limited-run Corn King brew at a members-only event.

While that particular concoction is not available for sale (yet) other great options include La Noche Se Mueve (a coffee IPA), Yum Yum (a malty pale ale) and Robert the Bruce (a Scottish-style offering with a roasted biscuit-esque essence). Take a day to try out what's on tap and enjoy a meal from the brew pub, which features a full menu of small plates, pizza, sandwiches, sides and entrees inspired by the expansive list of porters and ales.
True BBQ and Whiskey Bar
8940 Calumet Ave.
Munster, IN 46321
truebbqandwhiskey.com
Who doesn't love meat slathered in sauce? Outside those who prefer a vegan or vegetarian diet, you'll be hard pressed to find anyone who's able to resist a slab of expertly prepared barbecue ribs. True BBQ and Whiskey Bar seeks to take the barbecue experience to an upscale level. The elegant eatery features craft cocktails and a great list of gourmet dishes dressed with their handmade sauces and dry rubs.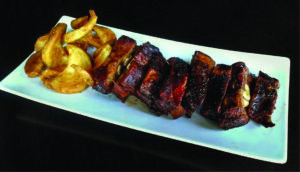 When the temp is a bit low to enjoy the patio area, patrons will be able to take in live music regularly once the weather breaks. This year, True BBQ received a Best Of recognition from The NWI Times newspaper and a Diner's Choice distinction from OpenTable.
Cafe Borgia
10018 Calumet Ave.
Munster, IN 46321
cafeborgia.com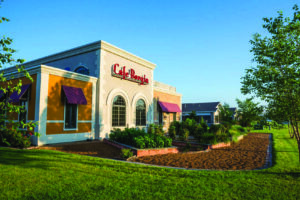 For more than three decades, Cafe Borgia has been a consistent force in the Munster food scene. Fine food aficionados will not be disappointed by nationally recognized lead chef and owner Mike Jesso. The menu covers the canon of modern Italian fare: seafood, pasta, pizza, meat prepared osso bucco style, and the obligatory desserts — tiramisu, sorbet, gelato and biscotti, to name a few. In the warmer months, patrons can do dinner al fresco on the patio or enjoy the interior, which boasts hand-painted murals on nearly every wall.
Mishkenut Mediterranean Cuisine
221 Ridge Road
Munster, IN 46321
mishkenut.com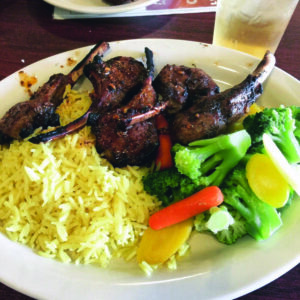 Mishkenut's motto — Eat Right, Eat Healthy, Eat Fresh — is just the welcome needed for visitors looking to enjoy a flavorful meal made with the best ingredients. Purveyors of Mediterranean cuisine will be thrilled to find a variety of salads (tabbouleh and fattoush, to name a couple) and traditional staples, such as baba ghanoush, chicken shawarma, beef kabob and, of course, baklava.
Munster Donut
8314 Calumet Ave.
Munster, Indiana 46321
(219) 836-1709
In the words of everyone's favorite animated nuclear power plant employee: "Donuts … is there anything they can't do?" Well, Mr. Simpson, there are lots of things they can't physically do, but they sure have the power to bring a smile to our faces. Munster Donut, a town staple since 1969, serves up dozens of the delicious frosted, powdered and sprinkled miracles every day. In addition to the traditional options, you can order up a batch customized and decorated just for you.