By Ebony Chappel
Each new year, people set resolutions and make plans to lose weight, be more productive at work, save money and achieve other goals. While many start off the top of January on the right track, by Valentine's Day many of those good intentions have fallen by the wayside.
Motivational speaker, author and life coach Dr. Stacia Pierce says writing out your plan in a journal may help.
"My clients always come to me saying they've made a million resolutions, but they have no idea how to keep them," said Pierce in a release. "Instead of shooting down their goals, I show them how to manifest them — and journaling is the key."
This year, Pierce released The Success Journal, and IMBM talked with her about the idea behind the journal's creation and what tips she has for creating success for oneself.
IMBM: What inspired you to create The Success Journal?
Pierce: The Success Journal is a culmination of all my success tasks. It's a guided journal that leads you through the process of writing your way to success. In my experience I have found that people are intimidated with the journaling process. Some are afraid to write for fear of someone reading the book. Others are used to using their journal to rant only. The success journal is a new way of journaling, and it teaches you to write positive results and desires even before they actually happen in your life. I've been using these principles for years, and I have always looked for a journal that had all these features in it. When I couldn't find one, I created it myself.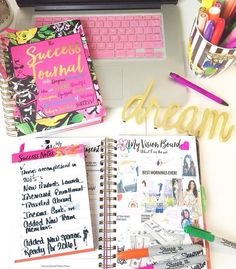 You've worked with lots of people to help them achieve their dreams and goals. What are some of the common mistakes people make in goal setting and in execution?
The most common mistake in setting goals is not being specific about what you really want. When you are not definite about your goals, then you can hardly achieve them in any way. Another common mistake is not giving goals the attention that they deserve. Your life goes in the direction of your most dominant thoughts. By spending time daily meditating on your goals and how you want to achieve them, you're most likely to accomplish them.
What advice would you give to someone looking to start goal setting for the first time?
Write your goals. I know this point seems like a no-brainer … but honestly many people expect to achieve a goal that is only in their head. What's written is real. Taking the time to write down what you want to accomplish is the first step to achievement.
Review your goals often. A lot of people write their goals only once and never look again. It's impossible to achieve a goal that you're not even aware of. By constantly reviewing your goals, you'll become empowered to develop an action plan to achieve them.
Research your goal. Learn all that you can about your goal. Whether it's to write a book or travel the world, research everything. Find out about pricing, equipment, services you need, etc. Collect magazine clippings, articles and other information that can help you along the way. The more you research, the more real the goal becomes to you.
See your goals in the final state of accomplishment. Add a big picture image of success and visualize yourself achieving your goals often. I created a weekly vision page in The Success Journal to help my clients focus on a task until it is accomplished. By seeing your goal vision often, you'll be able to manifest your desired results.
There are people who have tried to set goals over and over again with no success. What advice would you give them to help them stay on track?
In many cases people are all over the place with their goals and in their thinking. Instead of trying to accomplish a million things at once, pick only a few goals to focus your attention on. Follow the steps that I mentioned earlier with these goals and wholeheartedly give attention to them … you will see results.
What are three top tips you would give people looking to make their 2017 a huge success?
Journal your way through the entire year. I cannot stress the importance of scripting out your life. Journaling enables you to align your mind and emotions and focus on your truest desires. Not only is it a great cleansing exercise, but it will also empower you by building momentum, faith and determination to reach your goals.
Create a mantra to live by and write it down. Create an affirmation that best describes how you envision your life for 2017. Say it every single day as a part of your daily routine.
Take breaks to enjoy life. Schedule in breaks of enjoyment. Create a list of what you love to do. Then use that list to pencil in time to do what you love. The list can have small and big activities. It can be anything from reading magazines, to a spa day, spending time at the beach, shopping, etc. Whatever you love to do, make sure that you set aside time to do it. Do the small things weekly, and plan for major things quarterly or at least twice a year. This is so important, because people often complain about how life gets the best of them and they feel deprived of all the things that they love. You can do whatever you want, when you plan for it! Make your own life enjoyable by intentionally taking action.
For more information on Dr. Stacia Pierce and The Success Journal, visit lifecoach2women.com.