Peter Lee, the Indy franchise owner of Popcorn World, had their store's grand opening on 3755 E. Raymond St. at the beginning of April. 
The gourmet popcorn shop that originated in Gary calls itself the largest shop, with close to 500 flavors of popcorn. The Black-owned company is expanding its locations, with their newest one being the franchise in Indianapolis. 
"It's been beautiful. It's been wonderful. We get quite a few people every day. There are almost 500 flavors, but we're running 85 of our top flavors out of here. Every week, I introduce a new flavor," said Lee. 
Flavors vary from crab leg to ranch Doritos to Oreos. The uniqueness of the popcorn comes from original recipes. 
"The flavor's perfectly correct. It's not overwhelming or less. If you ask for banana pudding, you get banana pudding. If you ask for peach cobbler, you get peach cobbler, and if you ask for green apple, you get green apple. We remove at least 98% of the husk from the popcorn. That's the stuff you get stuck in your teeth. It helps people with braces," said Lee. 
Black-owned gourmet popcorn like no other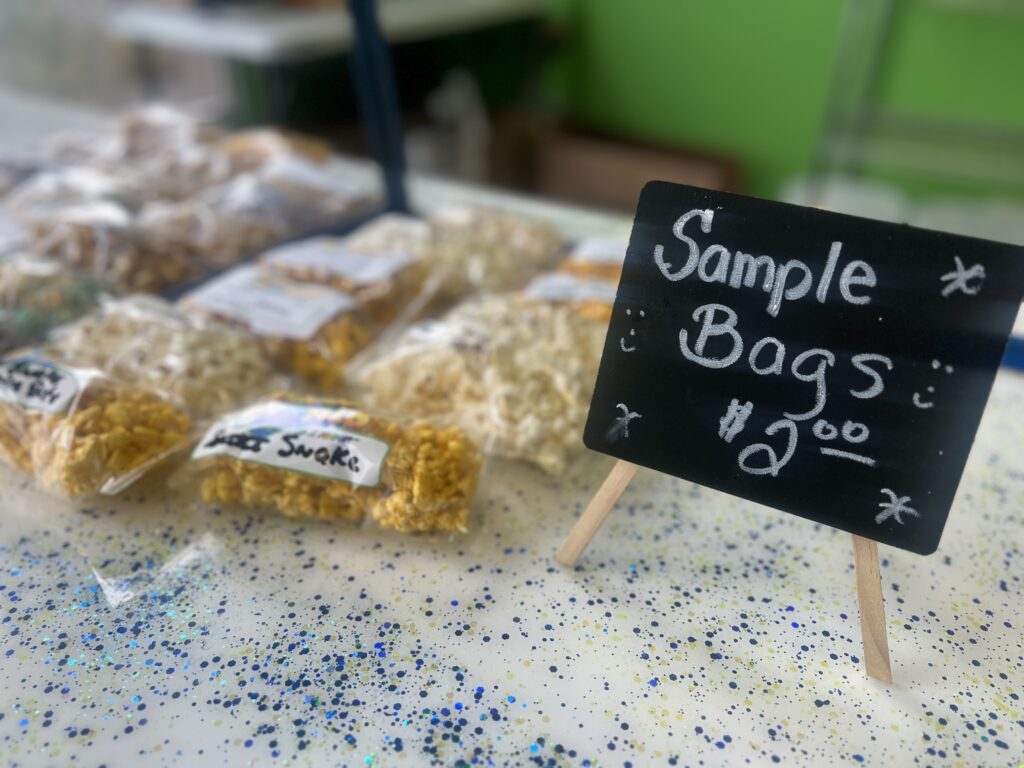 A growing franchise, customers can also order online here.
The brick-and-mortar store is open Tuesday-Saturday from noon to 7:00 p.m. 
Customers can request gourmet popcorn bars for corporate work events, receptions and other parties. 
They also offer sample bags and regular-sized bags. 
"People always ask me which one is my favorite flavor. Most of these flavors are very good to me. Especially the cookies and cream and birthday cake flavors. I like the jerk and the steak, but what I always go back to is the good old traditional cheese popcorn," said Lee. 
He grew up on cheese and caramel-flavored popcorn. 
"We use real cheese too. We don't use powder like everybody else uses," said Lee. 
He said their popcorn could last in their bags for almost two to three weeks without it going bad. 
Lee also said they have had offers to sell but they refused. 
"It's a Black-owned company, and we're trying to make other Black entrepreneurs. We're not just trying to run-and-gun like others. In history, Black folks have always made phenomenal stuff. What has been the biggest problem? We sold it, or it was stolen from us," said Lee. 
He plans on opening more franchise stores in the next two years.
Contact staff writer Jade Jackson at 317-607-5792 or by email at jadej@IndyRecorder.com. Follow her on Twitter @IAMJADEJACKSON
for more minority business highlights such as Lee's black-owned gourmet popcorn shop, click here!