A mix of modern architecture and small-town charm
By Oseye Boyd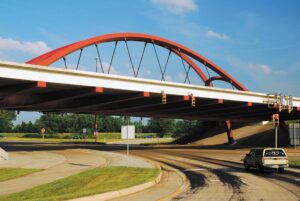 Known for its architecture, Columbus is ranked sixth in the U.S. for architectural innovation and design by the American Institute of Architects. With a population of 45,000, Columbus is the 20th largest city in Indiana and the county seat for Bartholomew County.
Gen. John Tipton and Luke Bonesteel purchased the land in 1820. The town was originally named Tiptonia in honor of Tipton and later changed to Columbus on March 20, 1821.
Columbus parks feature an ice skating rink, skateboard park, observation tower and an ivy-covered tower. The park system is ranked number one for cities its size by the National Recreation and Park Association.
Much of downtown is listed with the National Register of Historic places. The National Historic Landmarks Program accepted six locations simultaneously.
Accommodations
The Inn at Irwin Gardens
The Inn at Irwin Gardens is a garden, bed and breakfast, event venue and private residence all rolled into one. Dating back to the 1800s, the Inn at Irwin Gardens offers something for everyone. While the house has been remodeled since it was built in 1864, some of the original features such as light fixtures, furniture, decorations and bathroom fixtures remain. 
Joseph Irwin and his family moved into the home in 1864. Four generations of the Irwin family lived in the home. The home was enlarged and redesigned in 1890 and 1910. Opened to the public since 1911, the garden closed for renovation from 2008 to 2012 and reopened in the summer of 2012. 
The Gardens
Open to the public 2-6 p.m. Tuesday-Sunday, June-October
Cost: free
House and Garden Guided Tour
Tours available 1-2 p.m. Tuesday and Sunday. 
Cost: $15 
Private tours are available for groups of six to 24 people on a day of your choosing. 
The Inn at Irwin Gardens 
608 Fifth St. 
Columbus, IN 47201
812-376-3663
irwingardens.com
The Ruddick-Nugent House
This bed and breakfast offers guests a chance to step back in time as the furnishing and decor reflect time periods throughout the history of the house dating back to 1884. The property takes up a city block and the grounds are being developed into extensive gardens. Complimentary refreshments are served and breakfast is served at an agreed upon time. Most children are welcome, but guests should inquire first.
1210 16th St. 
Columbus, IN 47201
800-814-7478
ruddick-nugent-house.com
Attractions
Anderson Falls
The flat land of Bartholomew County gives way to steeped walled-valleys and cascading waterfalls that make up Anderson Falls. Nature lovers have plenty to explore between the beech/maple forest, shagbark hickory, and white oak and buckeye trees. Migratory songbirds, woodpeckers, hawks and other woodland animals live on the preserve. Wildflowers grow in the spring.
3201 N. 1140 County Road E, 
Hartsville, IN 47244
Blue's Canoe Livery
This outdoor recreation center is for the adventurous type. Canoes, kayaks and rafts are available for rent while cruising down the Driftwood River. A popular trip goes through a state wildlife preserve where deer, beaver and great blue heron osprey and wild turkey are seen. It's also an excellent area for smallmouth bass fishing. Mild rapids are also present.
While families are welcome, children should be 4 and older. Camping also is available.
4220 W. 700 N
Edinburgh, IN 46124
812-526-9851
bluescanoelivery.com
Atterbury-Bakalar Museum
The all-volunteer operated museum, features artifacts and memorabilia from wars and conflicts from 1942 to 1970. Originally named Atterbury Air Force Base when it opened in February 1943, the base was later named Bakalar on Nov. 13, 1954 after First Lt. John Edmond Bakalar, a Hammond native who was killed in the line of duty in Sept. 1, 1944 over France.
Museum hours are 10 am.-4 p.m. Tuesday-Saturday. Call ahead to schedule group tours.
4742 Ray Boll Blvd.
Columbus, IN 47201
812-372-4356
atterburybakalarairmuseum.org
Zoo'Oopolis Exotic Petting World
Animal lovers have an opportunity to get up close and personal with more than 100 animals from 40 different species, Zoo'Oopolis Exotic Petting World features cinnamon raccoons, Asian leopard Bengal cats, teacup pigs and more in an air-conditioned/heated 3,000-square foot facility that sits on five acres of land. There are no barriers between the animals and visitors so there's a chance to touch and feed the animals, half of which are rescues. 
Open year round Wednesday through Sunday. Reservations are required.
Hours are 11 a.m.-1:30 p.m.; 2:30-5 p.m.
Cost: $33, ages 16 and up; $22, ages 3-15; free, 2 and younger
12696 W. 50 S 
Columbus, IN 47201
812-764-4980
zoo-opolisexoticpettingworld.com
Dining
Zaharakos 
This old-fashioned ice cream shop will take you back in time with its stained glass window and Tiffany-style lamp. According to the website, "Zaharakos has been serving sodas, sundaes and smiles since 1900." A museum and library features items from the 1800s, a restored 1870s orchestrion, syrup dispensers and the largest collection of pre-1900 marble soda fountains. The Soda Fountain and Mechanical Music Libraries are on the second floor.  The country store has everything from candy to preserves, wooden toys as well as souvenirs.
329 Washington St.
Columbus IN 47201
812-378-1900
zaharakos.com
240 Sweet
These marshmallows are definitely not the grocery store variety. Instead, these gourmet marshmallows come in flavors such as s'more, crème brulée, crunchy cinnamon and bourbon chocolate swirl. The company began in 2007 and offers opportunities to make your own marshmallows through interactive classes.
9600 N. US Highway 31
Columbus, IN 47201
812-372-9898
240sweet.com
Henry Social Club
Although its doors opened in 2014, Henry Social Club is known for giving restaurant goers an experience often found in large cities. Owner and chef Gethin Thomas offers a menu that includes steaks, homemade breads and pasta — just to name a few. In addition to unique cocktails, Henry Social Club has an extensive wine collection. The décor adds a touch of class with Eames chairs and mirrors from 1921. Henry Social Club also has a private event space for guests. Reservations are accepted. 
4323 Washington St.
Columbus
812-799-1371
henrysocialclub.com     I