New restaurant serves up comfort food with a twist
By Oseye Boyd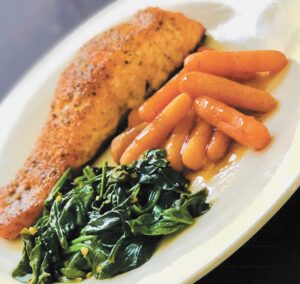 Paleo Soul opened its doors in April, serving paleo-inspired cuisine. Also known as the Caveman or Stone Age diet, the paleo diet mimics our hunter-gatherer ancestors by focusing on lean meats and fish, fresh fruits and vegetables and avoiding processed foods. Owner Tanisha Stewart wanted to provide healthier alternatives to fast food — but still serve food quickly — at an affordable price. Stewart aims to offer food for the body and soul. Stewart chose her East 96th Street location in Fishers for several reasons: it's close to home and several gyms — including Crossfit (the paleo diet is popular with many Crossfit regulars) — was formerly a restaurant and near Sams'Club.
IMBM: How did you decide to open Paleo Soul?
Tanisha Stewart: It was about a year and a half ago I was given the desire to open a restaurant. I knew that I did not want it to be a fast food place.
If I'm not on the paleo diet, can I still eat at your restaurant?
While I don't follow the paleo diet strictly, I absolutely embrace the idea of cleaner eating. The less junk you put in your body the better you are. Minimal processing, minimal artificial ingredients and healthier overall.
There are certain things that just don't qualify as paleo approved although nothing unnatural (such as beans and rice).
Have any favorite dishes emerged among diners?
Since I've opened my greens have been a top seller from the beginning but here recently the blackened salmon has just had a surge in sales and the turkey chops. The sautéed spinach does incredibly well also and the sweet potatoes. I've got a couple of things that have been surprise hits for me. I use fresh organic spinach, sauté it with fresh garlic.
Are your meals expensive?
"We've got great pricing. You can get an entrée, one side and a drink for $10.99; two sides and a drink for $13.99, and three sides and a drink for $15.99. I think that is extremely fair pricing for healthier food. What I have tried to do purposely is I don't want people to have to spend a whole lot more money to eat healthy. We shouldn't make it cost prohibitive for folks to eat healthy.
What are your hours?
We are open 11 am. to 7 p.m. and we are closed on Sunday and Tuesday.
Why did you choose your location?
Initially in searching, I was purposely looking for a building that had previously been a restaurant just trying to cut down costs on the build out. I
Paleo Soul
7305 E. 96th St., Fishers
11 a.m.-7 p.m. daily; closed Sunday and Tuesday
facebook.com/paleosoulindy/
317-827-2922