By Victoria T. Davis
If you're on the hunt for unique knick-knacks, T-shirts and home gear that shows off true Indiana pride, there is no need to search for tourism stores that sell simple key chains and postcards. Indiana native Graham Brown owns and operates United State of Indiana (USI), an online apparel shop that sells everything from T-shirts, to sweatshirts and coffee mugs, which all showcase great Hoosier pride.
The Indiana Minority Business Magazine (IMBM) recently spoke with Brown about his great success and how USI has quickly become a popular go-to shop for Hoosier apparel.
IMBM: What's the story behind USI?
Brown: In 2011 I was living in Anderson (Indiana), and I was in a band at the time. I came up with a logo for the band that is now the logo of United State of Indiana, the vertical American flag, and as soon as I started screen-printing it on a few shirts, I realized the design worked well and spoke to people who identified with Indiana.
The name United State of Indiana seemed really obvious, so I bought the domain name to display the one black shirt with the white flag on it, and it started rolling from there. We want to find people who are passionate about Indiana for whatever reason and give them an outlet to express that.
At what point did USI become an operating business?
It was a hobby for me for about three years and then since 2014 it's been my full-time job. It's been very gradual. It went from one T-shirt to two, and it's gotten more of a following.
Where are the products made?
I work out of The Speak Easy in Broad Ripple. A few different screen-printing companies in town print the shirts. I found some cool partners in the city, and it's always been important to use local companies and those that I can connect with. USI itself doesn't do the printing.
Where do you get ideas for your products?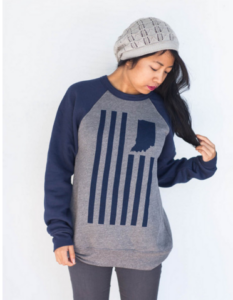 It's a slow process and it's rare that I sit down with the goal of creating a new product. It may come from myself walking around the city and getting inspiration. It really just comes from absorbing our neighbors and environment. If we see all of the people we know drinking coffee, then we might make a cool coffee mug. The market drives every business.
USI helped create the "Indy Welcomes All" T-shirt in 2015, which was a big deal.
That was an interesting opportunity for us. The shirt was actually designed by the Indy Chamber of Commerce, and I was fortunate enough that they got ahold of me and wanted to partner. It's cool to be recognized in that way, because many things still feel like they're being done on a small level, but when you get a call from the Chamber of Commerce, Mass Ave. or any of these big events and neighborhoods, it's very humbling and encourages me to continue.
How has business been, and how are you keeping up with demand?
It's been great. The year of 2012 was really the first year it was a full-fledged business, and since then business has been steady and definitely exceeds my expectations every year. I think I tapped into a place of high energy that already existed for Indiana, so it was really a little bit of being at the right place at the right time. Right now I think we are the go-to people for Indiana pride products. Today it's doing really well; I have four part-time employees and I'm the only full-time employee.
Do you anticipate more sales for this year since it's the bicentennial? Will there be any custom products made in its honor?
Yes, the bicentennial is going to be fun, and I've already begun to put together a calendar of events and I've spoken with the Indiana Bicentennial Commission. There definitely will be some special products (in honor of the bicentennial). We've discussed ideas pertaining to a series of shirts where one would come out every month that will walk you through Indiana's history. We've also thought about finding 12 Indiana leaders or events to showcase on a shirt each month, but right now it's in the works.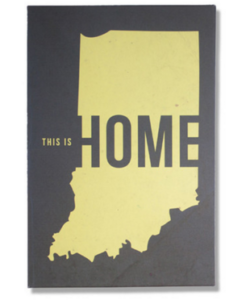 What are some of your most popular items?
The flag tee has always been one of the most popular ones, as it was one the original product, and the "This is home" tee, which was the second design put out. Those will never go away, and we're always looking to find new ways to feature those designs.
How do you think your business contributes to the economic development of the state?
It contributes in a hard-to-measure and intangible way by helping to grow that sense of pride each year, and that's a positive for everyone. People work harder, stay at their jobs longer, because the people around them take pride in their environment. In a big-picture sense, doing a pretty significant amount of sales and keeping the ideas of working with people here locally is what it's about.
For more information on United State of Indiana, visit UnitedStateofIndiana.com.