St. Vincent makes hospital care more accessible
By Lexy Deckert
In recent years, the shift in how we use technology has gradually transformed consumer expectations, how industries address the evolving demands of their customers, and how health care providers engage with their patients. 
As one of Indiana's largest health systems, St. Vincent seeks to reimagine how health care is delivered by identifying new and innovative ways to provide accessible, compassionate care to people when and where they need it. 
Below are a few of the ways St. Vincent is incorporating new care models and the latest technologies to make it easier for individuals and families to access the health care they need: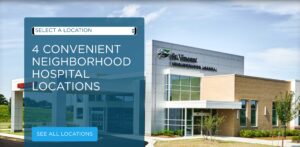 St. Vincent Neighborhood Hospitals
A new, innovative kind of hospital model has been popping up throughout the Indianapolis area, offering compassionate health care closer to home. St. Vincent Neighborhood Hospitals are small-scale, 17,000-square-foot facilities offering emergency room and inpatient services just like a full-sized hospital, but with shorter wait times allowing adults and children to see a physician within 15 minutes or less. Also known as micro hospitals, these full-service, 24/7 facilities provide state-of-the-art technology, emergency services and inpatient care. Each neighborhood hospital offers its own low dose CT and imaging services, radiology, digital x-ray equipment and pharmacy services. St. Vincent opened Indiana's first neighborhood hospital in Noblesville in July 2017. Since then, St. Vincent Neighborhood Hospitals have sprouted up in Castleton, Avon and Plainfield with plans to open four more locations before the end of 2018. Visit stvincentneighborhoodhospital.org.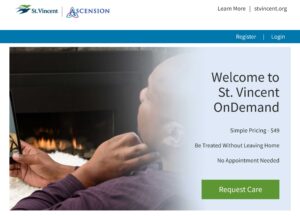 St. Vincent OnDemand 
St. Vincent OnDemand is a convenient, easy-to-use, virtual care option that can provide individuals with quality care from a board-certified provider through any web-enabled device — smartphone, tablet or computer. This feature is changing health care delivery by providing a way for individuals to have a virtual face-to-face conversation with a provider through their personal device at a time and place most convenient for them — without the need for an appointment. St. Vincent OnDemand can help to diagnose and treat common health conditions, including cold and flu, pink eye, skin rashes and sore throats. Think of it as a virtual visit to the doctor's office that can save you from making an unnecessary trip. Through these virtual visits, providers can prescribe medications and send them to patients' local pharmacies. And unlike virtual care services with limited hours, St. Vincent OnDemand is offered 24/7/365 — whenever someone needs to speak with a medical expert. Visit stvincentondemand.anytime.org.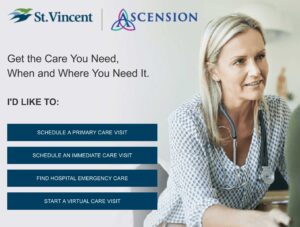 Online Scheduling
With a few clicks of a button, current and new patients can schedule appointments at their convenience with St. Vincent's online scheduling feature. The process of scheduling an online appointment is simple. Available doctors and appointment days and times are listed based on patients' insurance type and location. After deciding on an date and time, patients must fill out a short questionnaire and confirm the appointment. By using online scheduling, patients can avoid long phone calls and hold times. This feature is just another way St. Vincent is making health care easily accessible. Visit getstvincentcare.com. I