Enjoy award-winning dining, shopping and lodging options
By Victoria T. Davis
Just 50 miles away from Chicago lies a place many call their home away from home — Michigan City, Indiana, where the motto is "Shop; Sand; Smiles." Due to its close proximity to large cities, the area attracts a lot of tourism from Chicago and other parts of Northwest Indiana. Visitors and new and longtime residents are invited to explore the vast amount of award-winning dining, entertainment, shopping and lodging options available. Previous visitors call it a "melting pot" where they get a chance to meet people from all over the surrounding area.
ATTRACTIONS
Washington Park
During some downtime, take a stroll along the boardwalk at Washington Park in Michigan City. Visitors can participate in a variety of activities such as swimming, the Washington Park Zoo, beach volleyball, tennis or the Star Spangled Bicentennial Parade held July 2. Guests also have access to Millennium Park and the Old Lighthouse Museum.
For more information, visit michigancityparks.com.
Shady Creek Winery
Shady Creek Winery features custom crafted wines and a first-class facility situated on nearly 20 acres of grounds with expansive views, comfortable patios, covered porches, fireplaces, a tasting room, specialty foods, gifts and local artwork. Shady Creek Winery has many varieties of wines from the Lake Michigan region as well as the West Coast. Visitors can participate in one of the many events held on site such as Wine Down Dinners, live music and a Leisure Lunch including pizza and Panini and wine tastings.
For more information, visit shadycreekwinery.com.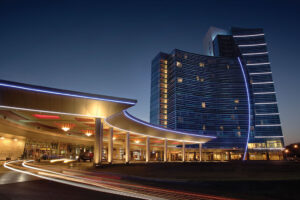 Blue Chip Casino Hotel Spa
Experience 65,000 square feet of casino floor, soul-stirring rhythms on the dance floor, gourmet food, delicious snacks, pampering facials and luxurious hotel rooms at Blue Chip Casino. Gamers have the option of 44 table games, eight live poker room tables and more than 1,700 slots 24/7 all year round. For those looking to indulge, Blue Chip has six dining options available ranging from quick bites to fine dining. To take a load off, 486 luxury rooms and suites are available that include access to pools, fitness centers, in-room dining and special packages.
For more information, visit bluechipcasino.com.
Lubeznik Center for the Arts
Experience great art in the small town of Michigan City at Lubeznik Center for the Arts for a small donation of $3. Visitors can take in the many art exhibits on display, take part in a variety of art classes, get a behind-the-scenes tour of specific exhibits during the Kick It With the Curator event or take part in many of the First Friday events. Lubeznik also has a small shopping gallery where hundreds of artisans and craftsmen sell their work. During the winter season, thousands of items spill over into the lobby for their Holiday Artisan Market.
For more information, visit lubeznikcenter.org.
ACCOMODATIONS 
The Bridge Inn
Just steps away from restaurants, boutique shopping and beaches is The Bridge Inn, a traditional bed and breakfast with 13 contemporary rooms, private baths, private sitting rooms and an outdoor deck. Bridge Inn also offers luxury suites with whirlpool bathtubs, and two-bedroom suites for families or groups. Some rooms offer kitchenettes while others offer full-sized kitchens, but Bridges Waterside Grille, the hotel's on-site dining location, is also open for lunch and dinner, May through October.
510 E. 2nd St., Michigan City, IN 46360 | (219) 561-0066 | bridgeinnmc.com.
Tryon Farm Guest House B&B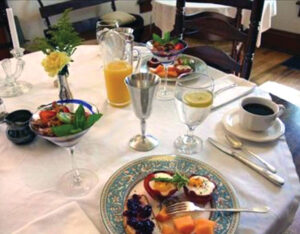 Resting on a former 170-acre dairy farm, Tryon Farm Guest House B&B is a destination "popular with visitors who seek the unique experience of sharing an immersion lifestyle in Michiana, where guests can enjoy the area while living like a local." The guesthouse feels like a cozy retreat with private baths, luggage racks, empty dresser drawers, clothes hangers and shelves to give the "home" vibe. Four styles of rooms are available: the 1930s-inspired Alcove Room with a claw-foot soaking tub; The Cottage, a great room for reading, reflection and relaxation; the Prairie View room with an Art Deco design; and The Farmstead, with a full view of the farmstead outbuildings, dairy barn, chicken coop and fields.
1400 Tryon Road, Michigan City, IN 46360 | (219) 879-3618 | tryonfarmguesthouse.com.
Feallock House
Priding themselves on giving their customers individualized attention and providing personal touches to each stay, Jan and Harold Smith are the owners and innkeepers who interact with their visitors on a daily basis. Feallock House is located just eight short blocks from Lake Michigan and was constructed in 1866. Today, it is thought to be the oldest residence in the Elston Grove Historic District in Michigan City. The bed and breakfast has four guest rooms, a library and parlor. Special packages are available for businesses and multiple-night stays.
402 E. 8th St., Michigan City, IN 46360 | (219) 878-9543 | feallock.com.
DINING
Panini Panini
Named by Yelp users and editors as No. 7 on the list of top 50 restaurants in Indiana, Panini Panini has certainly developed a special place in the hearts of Hoosiers. With the menu changing seasonally, Panini Panini serves up a wide selection of soups, salads, sandwiches and entrees, along with a selection of fine wines and craft beers. Many of the restaurant's Facebook reviewers have rated the restaurant a five-star experience and recommend the shrimp sandwich, pot roast sandwich and pesto linguine.
1720 Franklin St., Michigan City, IN 46360 | (219) 873-1720 | panini-panini.com.
William B's Steakhouse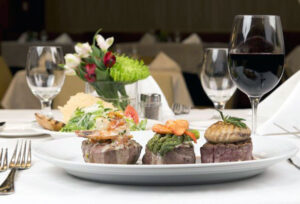 Those looking for a world-class dining experience are encouraged to visit William B's Steakhouse inside the Blue Chip Casino. The restaurant's tables are draped with white, high-quality linen and fine china. Diners will discover fresh seafood and exquisite pasta dishes, all prepared with classic Midwestern flair. A wide range of specialties grace the menu, including braised short ribs, filet and stuffed shrimp, center-cut filet mignon, cedar plank salmon and Alaskan king crab legs.
777 Blue Chip Dr., Michigan City, IN 46360 | (888) 879-7711, ext. 2118 | bluechipcasino.com.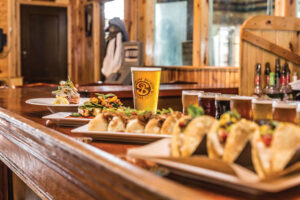 Shoreline Brewery
Say "Cheers!" at Shoreline Brewery, where customers can enjoy great food and drinks seven days a week. This brewery and restaurant located near the shores of Lake Michigan offers 12 beers on tap, including the World Beer Cup Award-winning Beltaine Scottish Ale, the Singing Sands Oatmeal Stout and several seasonal brews. In addition the beverages, Shoreline has become a place for families to relax in a warm, comforting, smoke-free environment. Diners can find items such as crab cakes on the appetizers menu, the Jamaican jerk chicken sandwich and Veracruz fish tacos.
208 Wabash St., Michigan City, IN 46360 | (219) 879-4677 | shorelinebrewery.com.
Holly's Restaurant & Pub
If you're on the hunt for a place where you can find all of your favorites — American and Mexican food along with slow-cooked barbecue — Holly's Restaurant & Pub may have a dish crafted with you in mind. Surrounded by 15 large television screens, visitors can view sports games or their favorite daytime talk show while enjoying friendly service. The restaurant is operated by the three daughters of the Buda family, who inherited the restaurant from their father, Mike, after graduating from Purdue University's Hospitality and Tourism school. Diners will enjoy sandwiches piled high with only the best-quality ingredients, delicious homemade soups and salads, and one of the best French Dip sandwiches. The eatery prides itself on big portions, so no customer ever walks away hungry.
3705 Franklin St., Michigan City, IN 46360 | (219) 879-5124 | hollysrestaurant.com.
Matey's Restaurant
If your soul is calling for some late-night fun with both great service and drinks, Matey's Restaurant is open until 3 a.m. Located on the marina, this restaurant serves up delicious meals and a place to enjoy a drink (or two) in the cocktail lounge, on the Tiki deck or in the sports bar. To spice things up a bit, the menu features a wide variety of Cajun and Creole items, along with an abundance of seafood, such as the coconut shrimp, breaded clam strips and others.
110 Franklin St., Michigan City, IN 46360 | (219) 872-9471 | mateysbar.com.