Welcome Week celebrates immigrants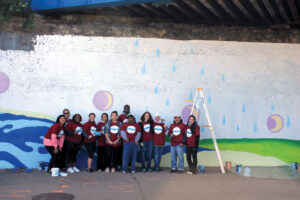 Welcoming Indianapolis, a project of the Immigrant Welcome Center, hosted its 2nd annual Welcoming Week. The event brings Indianapolis residents together to celebrate the city's diverse cultures. Activities during the week included a service project on Indianapolis' west side, a lunch and learn series taught by area immigrants, and an international picnic.
38th Annual International Festival
The 38th Annual Indy International Festival is central Indiana's largest and oldest pan-ethnic celebration. Hosted by the Nationalities Council of Indiana, the International Festival showcased Indiana's ethnic diversity, celebrated the state's unique ethnic traditions, and encouraged cultural exchange. The fest also featured exhibits from over 50 ethnic groups represented in Central Indiana as they gathered to share their cultural histories and traditions. Highlights of the festival included authentic foods from more than 20 ethnic vendors; continuous music and dance by local and national performing groups; culture booths hosted by volunteers in traditional dress where people could connect with their own ethnic heritage; artisans demonstrating unique cultural crafts; a Naturalization Ceremony; and an International Marketplace offering gifts from around the world.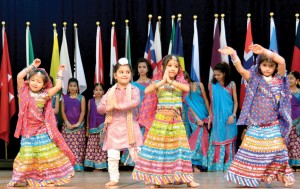 34th annual Christmas art exhibition
Artists and art lovers gathered at the Frankford Community Public Library for the 34th annual Christmas Art Exhibit entitled "The Magnetism of Nature." The art show draws on the magnetic quality of nature represented in myriad forms of art. Nearly 100 artists working in a multitude of mediums exhibited paintings, photography, pottery, jewelry, fiber, sculpture and more. The Friends of the Frankford Public Library Inc hosted the exhibit.
Traditional pow-wow held at IU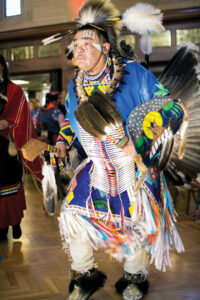 Native Americans gathered at Indiana University Bloomington to share history, culture and arts during the Indiana University 4th Annual Traditional Pow-wow held in Alumni Hall at the Indiana Memorial Union. It also served as the lead event for IU Bloomington's observance of Native American Heritage Month.
A major highlight of the special month was a visit by multi-instrumental musical performer Ed Kabotie, a member of the Hopi nation from Santa Clara Pueblo, N.M.
Each year, the IU Pow-wow has grown in size and scope, and participants come from across the country and even Canada.
Levi Coffin Interpretive Center groundbreaking
Hoosiers gathered in Fountain City, Indiana to break ground on the $3.1 million Levi Coffin Interpretive Center. The Center, funded with federal, state, local and private dollars, will provide visitors with information about the importance of Indiana on the Underground Railroad. Located adjacent to the Levi Coffin Historical Site, a home through which over 1,000 slaves passed seeking freedom, the center will help visitors learn about the history of African-Americans and their supporters who sought a simple though seemingly unattainable right: freedom.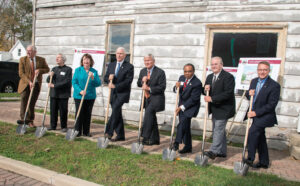 Bush twins visit Evansville
The University of Evansville's Patricia H. Snyder Concert and Lecture Series welcomed Barbara Pierce Bush and Jenna Hager as featured guest speakers during the "A Conversation with Barbara Pierce Bush and Jenna Hager" event.
United in their humanitarian missions and spirit of service – as well as through their close family bond – Barbara Pierce Bush and Jenna Hager have found a shared purpose in giving voice to the disadvantaged while bringing to light stories of hope. Coming from a unique vantage point as the only twins to grow up in the White House as both grandchildren and children, Barbara and Jenna were inspired to live lives of meaning at an early age. Stemming from their travels to impoverished areas in Africa and Latin America, they discussed their life's calling to address the most pressing health, education and economic inequality issues of our time.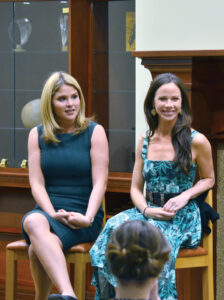 Cass Herrington, host and producer at WNIN Tri-State Public Media Inc., the area's PBS and NPR affiliate, served as moderator.