Design Bank invests in community
By Terri Horvath
The origin of Design Bank in Indianapolis began with a question: "How can I change the world through design?" It was asked by Will Marquez, who then teamed up with NaShara Mitchell to create "a center for mutual cooperation." Their primary mission was to bring design skills where they never existed before.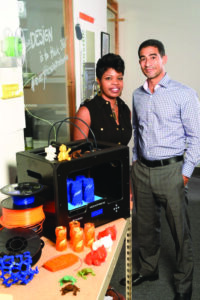 Design Bank officially opened in February 2015 in a converted bank building on East 38th Street; the founders chose to concentrate on teaching design and entrepreneurship in an area where the residents didn't have access to the necessary tools. Marquez draws on his experience as a designer and founder of W/Purpose, a studio focused on architectural and urban design. Mitchell has had a diverse career in the higher education field and as the founder of Studio B, a facility that concentrates on women and social entrepreneurs.
An example of their efforts at the Design Bank is the four-week summer program for young people, when participants design and develop a product. Part of their education involves learning the skills to transfer their ideas onto paper and apply 3D printing techniques. Then they have to sell the product before a panel, similar to the "Shark Tank" approach, for funding and distribution. The idea is to encourage "learning through doing," said Marquez.
One participant in the summer program was Simi Matemachani. In 2015, the then-14-year-old learned how to convert some of his drawings into 3D reality. He decided to sell his output as ornaments for the holiday season and sold out within two weeks. His 2016 edition had similar results.
Young people aren't the only ones learning through the Design Bank; adults have also seen their ideas spring to life. "We support professionals, students and hobbyists by helping them retool or advance their design thinking, fabrication or market impact," according to the center's website. For example, jewelry designers have used the center's tools. Another is an entrepreneur who has created special clips for consumer use.
"We want to be a center that produces producers, not just consumers," said Marquez.
Some of that output is sold through the Design Bank's Marketplace. This web-based service highlights products made by or in collaboration with participants in the company's programming, as well as other items made by area residents. For the 2016 holiday season, the company also hosted a pop-up shop in downtown Indianapolis. With Design Bank's sales commission, the founders reinvest in the community through youth job creation, program scholarships, community sponsorships and general economic development.
This connection to the community is also strengthened by the Design Bank's readiness to rent space for special events sponsored by groups and organizations in Indianapolis.
Community gatherings, education, entrepreneurial outlets — these reflect a mission that the Design Bank hopes strengthens the community.