By Victoria Davis
Enter Borel's Cajun & Creole Cookery and you'll feel like you've crossed into Louisiana. Splashes of purple, green and vibrant gold dominate the interior, trumpets and saxophones blare their funky jazz tunes over the loud speakers, traditional New Orleans delights are on the menu.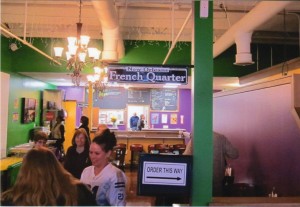 The new business launched in Indianapolis in November 2014. The owners, a family of four – husband and wife John and Becky and their daughters Tracy and Theresa, began offering their classic meals on Fat Tuesday hosted in their home.
"For about 10 years, we had Fat Tuesday at our house. We decorated the house just as you see," said Becky who points out the decorations on the restaurant's walls. "We wanted to bring New Orleans into our home for those who had never been or tried their food."
She said once the buffet-style occasion began welcoming 50 people, she turned to her husband and suggested they open a restaurant.
"It was first come, first served," laughed John. "People would fight for a plate."
The now three-month-old eatery serves up menu items such as Seafood gumbo, Dirty Rice, Crawfish Ettouffee, Jambalaya, fried fish and a variety of desserts such as Bread Pudding with Rum Sauce.
The couple both has roots in the south, Becky in Georgia and John in New Orleans.
"This has all come from my family," he said. "Borel is a Creaole name. All of my family is from New Orleans, which includes my great-grandfather, grandfather, my dad and others. They all of the lived on LaSalle Street which is right downtown in New Orleans."
"I come in sometimes and just pinch myself because we are now a restaurant. The three months we've been open has been very positive," noted Becky.
In fact, the food was in such a high demand on Fat Tuesday 2015, the owners we forced to tell customers they couldn't accommodate the large volume of people. A lengthy line trailed around the corners of the restaurant and out of the door.
The building located at 2274 W. 86th Street began as an one-room vacant shed with white walls.
The owners wanted to incorporate the community in their design efforts and found teens from local Brebeuf Jesuit Preparatory School to create a wall mural. The family plans to add awnings to give the appearance of a true patio. Another wall is planned to feature facts about Creole culture and Mardi Gras traditions.
The Borel Family working together has been a worry-free experience.
"We've always been a close family," stated John. "My daughter lives two doors down."
The owners say their next goal is to expand out the patio during the warmer months. They will also begin menu specials . They say their goal is to stay small, and remain a one-location restaurant.
"We want people to come here and just relax," said John. "Fortunately we have a beer and wine license so we ask customers to relax with a glass of wine. Some people sit here for four and five hours and that's what we encourage."
For more information about Borel's Cajun & Creole Cookery, visit Borelscookery.com.