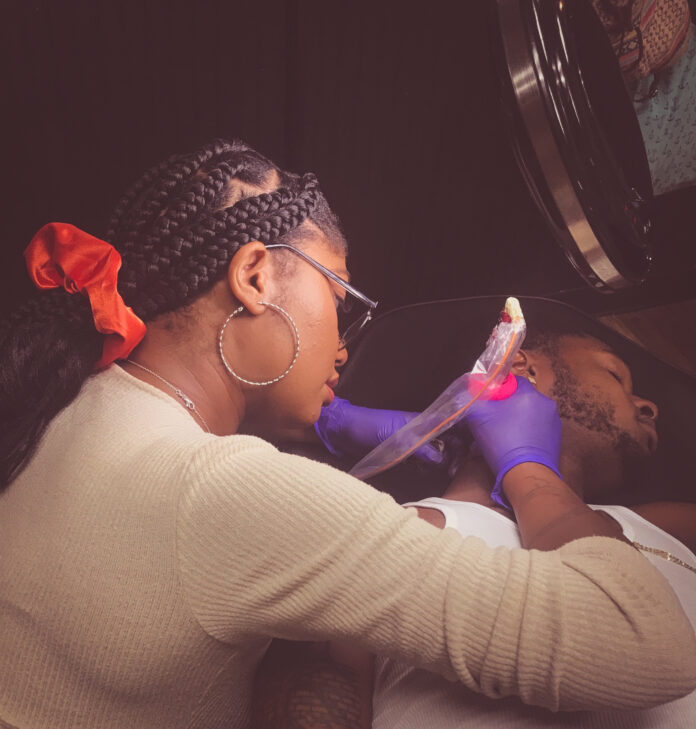 In 2008, Brian Winston bought his first tattoo gun. After teaching himself how to tattoo, he went to a well-known tattoo shop in Anderson, took some people he tattooed with him in an attempt to show the owner his work and get a job there.
Without glancing at the art, the shop owner looked Winston up and down and said, "Bro, you are Black. We ain't never seen a Black tattoo artist before."
So, instead of working for someone else, Winston opened Studio 77 to ensure his apprentices and artists would not have to go through similar situations.
July 17 is National Tattoo Day, which recognizes the cultural and historical significance behind tattooing. As Black tattoo artists and businesses are becoming more well known throughout the community, more creatives see tattooing as a viable career option. Black tattoo artists also are well-versed in tattooing darker skin.
Most of the artists at Studio 77 are young. It's because they are easier to teach, Winston said. His apprenticeships are free, and in addition to tattooing, he teaches them how to balance their finances, create a retirement plan and plan for a successful future in the tattoo industry.
"I love the people that work here," Winston said. "I want to see them be successful."
While the apprenticeships are free, the artist must work at Studio 77 for a year to get a better understanding of what it is like to work at a tattoo studio.
Nyderia Harris began her apprenticeship at Studio 77 in August 2020. She recently graduated from college with a degree in painting and art but had issues finding a job in the art industry. Winston, her cousin, encouraged her to become a tattoo artist, and she has been tattooing ever since.
"I kept taking on more and more complicated projects and nailing them," she said. "I was patient and dedicated to making it happen, and I made it happen."
As a Black woman in the tattoo industry, she said it was hard for her to find clientele because of the way she looks. Harris does not have a lot of tattoos, and when people see her, they do not believe that she is a good enough artist.
However, she enjoys working at Studio 77 and believes the shop creates a comfortable atmosphere for the artists and the customers.
"It's a whole 'nother vibe here, and that's why I love it," Harris said. "It's like a family."
The owner of Rated Art Tattoo Studio, Precious Young, is also protective of her artists because of some of the challenges she faced early in her tattoo career. During her apprenticeship in 2006, her mentor told her she needed to dress more feminine to be a woman tattoo artist.
"I kind of try to look after my artists," she said. "What do I have to do to make sure my artists don't go through what I went through?"
Around the time Young became a professional tattoo artist, she was homeless and lived inside the shop where she worked. These challenges are what inspired her to open her own shop in 2019.
For those interested in becoming a tattoo artist, Young advises them to "try not to get deterred" by the lack of representation in the industry. As more and more Black artists transition into tattooing, it inspires others to do the same. Just "go for it," she said.
Winston also encourages those with talent to become tattoo artists because not only is it a way to be creative, but it's also a way to create financial stability.
"This industry can change your life," Winston said. "You just have to get your head into it."
Contact staff writer Abriana Herron at 317-924-5143. Follow her on Twitter @Abri_onyai.