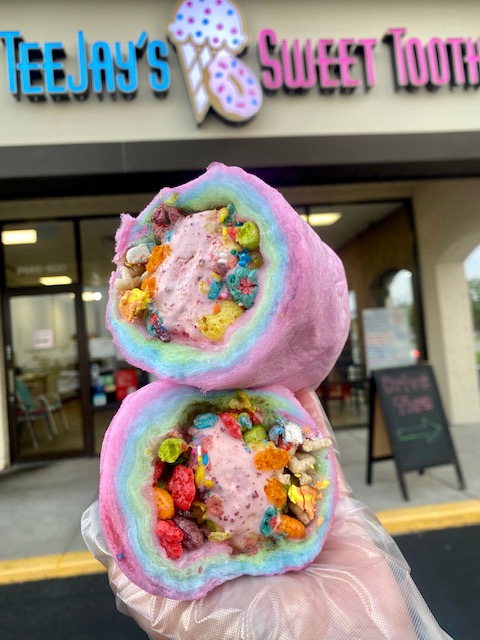 Gordon's Milkshake Bar owner Carl Gordon could have opened a burger joint or a lunch spot after he finished culinary school. But he chose ice cream because, to Gordon and many others, ice cream is not just food.
"I've seen the faces of people when you hand them four scoops of cookie dough ice cream," he said. "I wanted to be in that atmosphere where people are always smiling."
Gordon's Milkshake Bar, TeeJay's Sweet Tooth and FreeStyle Cupcake, Coffee & Ice Cream Bar are three Black-owned shops that Indianapolis customers can stop by to brighten their mood with not only classic cones, but also ice cream wrapped in cotton candy, scooped into dessert nachos and buried in unlimited toppings.
The Milkshake Bar, which opened December 2019, offers multiple ice cream flavors and customizable milkshakes, including a variety of vegan and dairy-free options. This month, National Ice Cream Month, customers can go into the shop to purchase BOGO (buy one get one) ice cream cones or special items, such as cinnamon apple tamales or a chocolate banana shake.
During the COVID-19 pandemic, Gordon said he didn't see the number of customers walk in that he wanted to, but he still saw a steady flow of ice cream lovers who needed a pick-me-up and knew he needed to stay open for them.
"That's my drive," he said, referring to the feeling his food gives his customers.
TeeJay's Sweet Tooth co-owner Taylor DeBruce said she believes a consistent stream of cars came to their drive through last summer, when many people were quarantining, because it served as a safe way to get out of the house when it felt scary to go almost anywhere else. Their unique ice cream dishes also offered at least a small amount of comfort for everyone who passed through, DeBruce said.
Now, almost three years after the ice cream shop opened, TeeJay's is still thriving and serving a variety of nontraditional but "Instagram-able" sweet treats such as sorbet slushees, rotating specialty ice cream flavors, cloud cones and warm doughnut sundaes. One of DeBruce's favorite items is the doughnut sandwich because of the different flavor combinations customers can create.
"You can kind of play with it," she said. "You can get really creative with your ice cream and topping combinations."
One of DeBruce's favorite combos is banana cream pie ice cream sandwiched in a doughnut with vanilla wafers.
FreeStyle Cupcake, Coffee & Ice Cream Bar also offers customizable ice cream items, in addition to baked goods such as cupcakes and bagels.
With about 40 ice cream flavors and an unlimited topping bar, customers can create anything from vanilla with sprinkles to bubblegum covered in Skittles. Some of the more unique ice cream flavors found at FreeStyle are red velvet, birthday cake and strawberry cheesecake.
FreeStyle owner Yalera Shorter said she also believes in the unique healing powers of ice cream, which is one of the reasons she wanted to offer the frozen treat in the shop.
"I don't care what kind of day you're having, what you're going through, ice cream makes it better," she said.
Shorter even swears ice cream heals pain — just like mom's kisses.
FreeStyle is temporarily closed and will be for about the next month because Shorter recently underwent knee replacement surgery. Shorter said anytime she feels pain due to her recovering knee her husband brings her ice cream and after a few bites she feels better.
"The doctors better watch out, ice cream is going to take over," she said.
Contact staff writer Madison Smalstig at 317-924-5143. Follow her on Twitter @madi_smals.