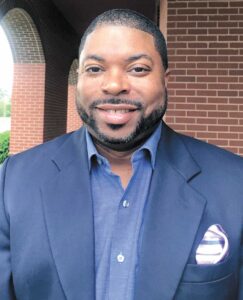 By Lathay Pegues
There are some people who adamantly argue that fear isn't real — that it's simply an imagined state of mind. Well I'll be the first to dispute this claim. Fear is real and it's responsible for killing so many dreams and aspirations.
I really didn't know the magnitude of fear until I decided to try my hand at entrepreneurship. Until then, I had done a very good job of keeping my life simple enough that my fears were manageable.
I wasn't the biggest risk taker. But I would, at times, travel outside my comfort zone to explore new opportunities. However, the risks were minimal — as I look back — compared to those that are necessary to start and build a company. The fears, attached to those "minimal" risks, were not even in the ball park with the ones I would endure with entrepreneurship.
Was I a little fearful of graduating high school? Yes, a tad bit. But I was comforted in knowing I'd be heading off to Indiana University. Was I fearful of graduating college? Yes — more than leaving high school because I had been warned about this big, bad world waiting to swallow me up if I didn't make the right decisions. Was I afraid to interview for my first broadcast reporting position in Quincy, Illinois? Of course I was. The city was the furthest from home I had ever lived. And what if the director didn't like what I said in my interview? 
I'm happy to say I achieved all those goals, and a few more along the way. But none of those questions of fear matched the one, when I asked myself, 'Can I pick up my wife and kids, move back to my hometown (Muncie, Indiana), live with my mother and start a business with the barbecue sauce I created in my kitchen a few years prior?' You want to talk about fear, and question whether it exists?  Yeah, OK. Let's debate. I'm sure anyone who has ever walked out on faith to do something they absolutely thought might be impossible knows this level of fear I've experienced and continue to experience throughout this process.
Now that my business has grown and things have smoothed out, I'm able to rest much easier at night. But it was a process to get to that point. I remember the nights when I would lie in bed and worry about how I was going to pay the mortgage the next day. I remember sitting on the floor wrapping quarters, dimes and nickels, hoping it was enough to pay a utility bill. 
Over time, what I've come to know about fear is that it's real, and it can produce physical strain on your body. But the best thing I've learned about fear is how to conquer it. The simple and short solution is to work through it. While you acknowledge its presence, go ahead and do what you set out to do, and you'll discover that fear was just your conscience trying to protect you from harm. Most times, there was no harm on the other side.
Recently, I set up a table at Kroger to hand out samples of my barbecue sauce. The grocery store held its grand opening for a new location. Two gentlemen walked up to my table. While one of them tried the sauce, the other stood back and watched. I asked him if he would like to try it. He responded, "No, I'm scared." After assuring him I wouldn't give him the "hot" barbecue sauce, he still denied my offer. Well, I giggled, of course, as a few others who were standing around did. Come to find out, this guy had a serious phobia of eating unfamiliar food. Now in his 40s, he had a traumatic experience at daycare, when he was 4 years old. He choked on some food, and since then has associated that experience with eating. It's taken him several years to learn what he's comfortable eating or trying. After learning this, I had my helper take over the food sampling while I talked to this guy for nearly an hour about his disorder. I was so intrigued. I guess he, too, became so intrigued with my story, that he decided he would trust me and try my barbecue sauce. It took him approximately 30 seconds of holding the sauce-filled spoon to his mouth before he finally tasted it. "Mmm, that's good," he replied. I could care less that he tried and liked my sauce. I was more thrilled that I'd witnessed a breakthrough at my sampling table. I watched someone overcome an enormous fear, and the result was so sweet. 
Lathay Pegues is President and CEO of JohnTom's Barbecue LLC, a Muncie-based barbecue sauce company. Pegues graduated with a broadcast-journalism degree from Indiana University and worked as a television and newspaper reporter for 15 years, before leaving media to start his own business. JohnTom's Barbecue distributes sauce all across Indiana and parts of Ohio and Kentucky.