By James Turner
The concept of storing information in a central location formed during 1950s, when the mainframe was deemed the future of computing. The room-sized, traditional mainframe has come and gone. Today, the information stored within our computers, tablets, and smartphones can be stored within the Cloud.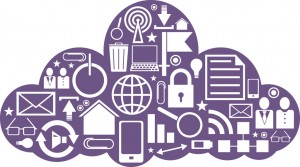 The Cloud simply refers to a place where people upload information to the Internet while making it accessible anytime, anywhere, from any device. Most people are already using the Cloud in their personal lives by accessing Gmail, uploading files to Dropbox, and shopping at Amazon. Cloud technology unlocks numerous benefits that has far reaching implications for business including:
Reducing Cost
Cloud storage can have significant cost savings over purchasing physical file storage for your business.
Instead of hiring a large IT support staff to maintain your storage system, many cloud applications automatically update.
The cloud can scale up or down with your business so you're not wasting money on technology that isn't working for you.
Accessing applications, and files in the cloud is easy for even the non-technical small business owners.
Ease of Use
Although the cloud has many advantages, it's important to acknowledge its potential negatives. The largest concerns include security and the loss of control over your own data. There are ways to ensure you're protected. For example, use and manage complex passwords, and review of your cloud partner's privacy policies to ensure your data is protected.
Large enterprises aren't the only business that can benefit from cloud technology, small business can use the cloud to level the playing field. Here are the top three ways business can quickly integrate cloud technology into their business today.
File Backup and Storage
According to one online source, "Nearly 50 percent of Small Business Owners don't backup their data, and those who do report spending 15 minutes a day which equates to about 8 business days a year". Cloud solutions can simplify this process and provide a place to store copies of your data off-site.
Enable a Mobile Workforce
Cloud-based applications permit businesses to access their data from anywhere in the world, using any device. This offers solutions where employees can be productive outside the office while providing more flexible work arrangements, which will lead to recruitment and retention of top talent.
Increase Collaboration
Cloud technology allows small businesses to built robust solutions without the traditional required IT investment. These solutions provide video conferencing, simultaneous document editing, and a white board experiences that provides mimics an in person meeting that increase collaboration while decreasing travel cost.
We only discussed the top three easiest ways to use the cloud. Are you ready to start using cloud technology? I recommend starting small to allow the benefits to unlock more advanced cloud capabilities that will delight your customers.