Successful business shares African culture with the Hoosier State
By Julian Wyllie
The process has been gradual, but immigrants living in Indiana are one of the largest sources of business growth in the state, research says, and the change will reflect national, economic and political trends for the foreseeable future.
According to the American Immigration Council, in 2011, the average annual wage for people with certified H-1B visas in Indiana was $64,000, 25 percent higher than the median household income of $48,000 for natives, however, most of these visas were for workers in science, technology, engineering and mathematics (STEM) occupations.
In most cases, immigrant entrepreneurs own local restaurants, grocery stores, convenience stores, gas stations, auto repair shops and bakeries, not technology companies, and those sectors are seeing the majority of the business growth in communities across the country.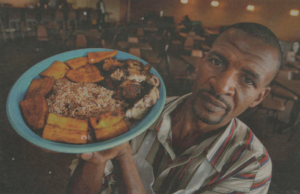 Mohammed Jiallo, 46, is a restaurant owner in Indianapolis and immigrant from Guinea, West Africa who learned to cook when he was 12 years old.
Jiallo moved to the United States in 1996 and worked in various restaurants, but he later decided to start his own business in Indianapolis, to present authentic African and Caribbean food to a new audience.
"People don't know about African food," he said. "I want them to get a taste and come back for more."
Indiana's immigrant population rose from 2 percent in 1990 to nearly 5 percent in the present, according to the U.S. Census Bureau, and Indiana's immigrants, who represent over 300,000 people, is greater than the total population of Cincinnati, Ohio and Pittsburgh, Pennsylvania, respectively.
Subsidies, tax breaks and infrastructure are commonly cited as incentives for business owners of all kinds, not just immigrants, but experts say there are other factors that can increase the chances of choosing a place like Indiana to live and start a business.
Terri Morris-Downs, executive director of the Immigrant Welcome Center, said Indianapolis is proof that a city with immigrant entrepreneurs can grow successful small-businesses. She cited the International Marketplace Coalition, which includes Jiallo's, as one of the best examples.
"A lot of it occurred naturally," she said. "We hope the success rate doubles and triples over time."
"Indianapolis is a good place for families and businesses because the city is affordable, it's growing, and there are people here helping retailers, restaurant owners and other shops create in the communities."
Most of Indiana's immigrants come from various countries in Africa, South America, Central America and Asia, but the majority have origins in Mexico, China and India, according to 2014 Census data. Many of these immigrants, however, are not yet entrepreneurs, but they represent the changing class structure in the country.
Nearly 10 percent of immigrants in Indiana are international students enrolled in colleges and universities and they will likely be the next generation of individuals starting businesses of their own, potentially within the state.
In the academic year ending in 2015, more than 28,000 international students enrolled in Indiana's colleges and universities. Purdue University alone attracts more than 10,000 of these students due to their STEM related degrees and the institution ranks nationally in the top ten with the highest foreign-student graduate count.
Indiana University, on the other hand, ranks in the top ten for attracting students from China.
In the future, as the number of college-educated immigrants increase, the outlook of the businesses they work for and ultimately own can shift the balance of wealth in Indiana and other states.
Morris-Downs said increasing rates of higher education in immigrant communities will be something to watch for.
But until the children of immigrants change the types of industries they enter, Indiana will be home to more small-businesses like Jiallo's, a successful restaurant with a proud foreign flair.