By Brittany King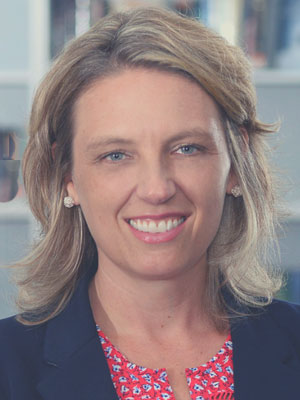 When Elizabeth Head graduated from University of Northern Coloradowith a degree in Spanish, she set her sights on Costa Rica.
"The plan was to be there for two months," she recalls. "But then I realized I was staying next to an international school and went to be a teacher. I thought I'd just teach for a little while, but one thing turned into another and I ended up staying for 20 years."
During her two decades in Costa Rica, Head came to know and love international schools. Most recently, she served as the general director of Pan-American School San Antonia de Belen in the central valley of Costa Rica. Prior to that, she was Pan-American School's vice principal of primary and preschool. She also co-owned and cofounded Lighthouse International School in Guachipelin, Costa Rica. The school opened successfully with full enrollment in grades Pre-K through 12 in 2008.
Head loved her time in Costa Rica, which made the decision to move with her two children to Indianapolis all the more difficult. But as she began to learn more about the International School of Indianapolis (ISI) and the diversity of the student body and faculty and staff, she realized it was a place where she and her family could thrive.
On Jan. 2, 2019, Head became the International School of Indianapolis' first female head of school in its 25-year history. Head plans to increase awareness about the school across the state and the Midwest, unite all of the students on one shared campus and continue providing language immersion and International Baccalaureate (IB) programs for ISI's Pre-K through 12th-graders.
Top of mind for Head is getting the word out about the benefit of getting an ISI education. Currently, all 550 students are part of the IB program, a curriculum that helps students develop strong academic, social and emotional skills. All of ISI's students are also part of a rigorous language immersion program where classes are taught in both English and one of the three language tracks (Spanish, French or Mandarin). ISI is the only school in Indiana to offer education options like this and one of a handful in the Midwest. Most schools reserve the IB program for their brightest students, but ISI believes all students are capable of the challenging coursework, allowing them to be better prepared for college well before their peers who may not have access to an IB curriculum until their junior year of high school.
The school also focuses on diversity and inclusion, which Head wants to continue during her tenure. All of the language teachers are natives from a country that speaks the language they are teaching and more than 50 nationalities are present between the students and staff. This is what helped Head make the decision to take the position at ISI, diversity and inclusion is woven into the school's fabric.
"Global mindedness is simply part of a functioning society. This isn't something special that a school should be doing," she says. "Children have to see the world as this way, they have to see diversity as just life. The way we function and the way we live is by being part of an international society. It's essential for life skills that all children need to grow up with to be successful in the future."
Beyond marketing the school and its programs across the state, ISI is currently having a capital campaign to unite the two campuses into one campus on Michigan Road where the middle school and high school are currently housed. The school has a goal of raisingmoneyto build a lower school by 2025. Head and her staff are also participating in a listening tour to help shape the strategic objectives she will oversee.
"I'm thrilled to be at ISI and I'm looking forward to the future and the legacy that we're building here," she says. "I'm honored and excited to be part of building that future because of the impact this school has on children's lives and the Indianapolis community."