By Ebony Chappel and Leslie L. Fuller
New Orleans, Louisiana, late summer, 2005. Bad weather is brewing for the Crescent City. In fact, meteorologists are forecasting that a hurricane is on the way, but Mario Rodriguez, deputy director of the Louis Armstrong International Airport in New Orleans, is not worried. The tousled-haired, friendly director sometimes comments that "hurricanes are like mothers' milk to me."
And since taking the job in NOLA, the engineer-administrator has overseen the expenditure of a $300 million dollar improvement project to the airport, including protecting and elevation of its surrounding levee.
"I'm just a dumb engineer, but the levee didn't look right. The levee around the airport, we paid to have it armored and lifted nine feet above where it was," he'll explain.
Meanwhile, he's been networking, exploring his new town, and spreading his gospel: an airport is a gateway to a community.
Then, the hurricane arrives. Its name is Katrina. When it makes its second landfall on the Mississippi-Louisiana border Aug. 29, 2005, it will leave millions homeless.  One thousand, eight hundred and 36 people will die in the storm and the ensuing flooding as numerous levees in the region's antiquated system  fail. Officials from the National Oceanic and Atmospheric Administration will deem it the most destructive storm in American history.
It's a severe test for both Rodriguez, and the Louis Armstrong International Airport he commands, but both are ready. The airport's project was completed approximately  one month ahead of schedule. In coming days, Rodriguez will relate what happened next.  "The water came within a foot of the new levee and the levees around the airport held and the levees around the city collapsed," he said.
Rodriguez saw New Orleans' airport through the most traumatic period in its history, and today, Indianapolis claims his expertise.
As executive director of the Indianapolis International Airport Authority, a role he assumed in June 2014, Mario Rodriguez is now entrusted with fostering the safety and travel experience of an estimated eight million air travelers a year, and also with protecting the reputation of Indiana's capitol city.
Indy's hometown airport was recently again named the Best Airport in America by Condé Nast Traveler.
Explaining its decision, Nast cited, the terminal with its "airy circular Civic Plaza at the center of it all. Unlike at most airports, the security checkpoints were designed to help people breeze through TSA procedures. Once through, the concourses are full of local favorites like Shapiro's Delicatessen," noted the magazine.
Rodriguez didn't come straight from NOLA. After seeing the airport through Katrina, the aftermath, and reconstruction, he became executive director of the Long Beach Airport in California. During his years at Long Beach, Rodriguez oversaw that a $145 million dollar expansion and renovation project, including a $45 million passenger concourse in 2012.
He arrived in Indianapolis June 2014, taking over from Robert Duncan, a former airport chief counsel who assumed the IAA top job in 2012.
Rodriguez' performance during Katrina, and afterwards, has netted him numerous honors.  For example, he earned the prestigious Environmental Achievement Award from Airports Council International in 2007, and at one point, his quest for a challenge almost sent him to work in Kuwait.
"I went to Kuwait to look for a job, to become head of civil aviation," he said adding that it's not as "sexy" as it sounds. "Kuwait is about the size of Rhode Island. I spent about three months over there and they wanted me to sign a contract. I said, 'I tell you what. I'll go home, spend a month there, do the holidays, and I'll come back." He never did. During an Airports Counsel International board meeting, he met the woman who would become his wife, Monica, who happens to be a pilot. "She did not want to go to Kuwait," joked Rodriguez.
'Lucky and interesting'
These tales, among others, have become a part of Rodriguez's storied career, which he is fond of describing as both lucky and interesting. "Like they say, I'd rather be lucky than good. And in most cases, I have been. I've been in the business for 27 years. Part of my career was spent in the private sector. I've had the privilege of consulting on private airports, and worked on the design of the Hong Kong airport, which is really interesting."
The Hong Kong International Airport, in operation since 1998, was constructed on a large artificial island and features  lifts and escalators as well as a wheelchair service for special needs passengers. The airport also has an Automated People Mover (APM) and a fleet of 14 electric vehicles for travelers.
Rodriguez' resume also includes a stint at the Palm Beach International Airport, where he began as a consultant.
"I guess they liked me so much, they figured they'd keep me. So I spent a good long time there. Won a lot of awards, but it's really easy to do in Palm Beach. Because when you have an unlimited budget to build whatever you want," he said.
In the late fall of 2014, Conde' Nast Traveler listed Indianapolis, Palm Beach, and Long Beach International Airport's among the top 10 best airports in the country—all airports where Rodriguez served.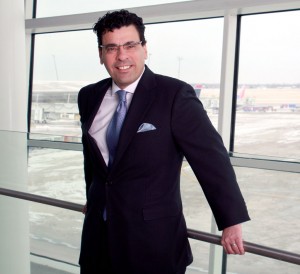 Today, those intense times surviving the wrath of Katrina are memorialized with awards on the wall, and within his memories, Rodriguez said.
"It took two years until we got back on our feet," said Rodriguez. "It wasn't just me. It was people that worked on the airlines; everybody had lost their homes. At one point, we were telling the federal government, everyone has lost their housing. I ended up, living two months inside my office, and after 71 consecutive days at the Hilton, I became a Hilton Diamond member," he said lightheartedly.
"To maintain operations, we lived in a FEMA trailer park. I lived two years in a trailer. That's a part of working. We had to keep it running. It wouldn't be right for me to abandon everybody and just say, " I got to get out of here. See ya." So I toughed it out for two years, then I treated myself, and I lived a little while longer in the French Quarter. I figured I'd change the balance."
Rodriguez recalled his time living in the French Quarter as a delight. "I love jazz," he remarked, adding that a favorite Monday evening pastime was having fried chicken and red beans and rice at the Praline Connection before listening to the soulful sounds of Charmaine Neville.
Hoosier hospitality an asset
The challenges in Naptown have been different than those in Long Beach and New Orleans, Rodriguez said, yet affected by the national economy.
Indianapolis International fulfilled ambitious, long-standing plans by opening a new terminal in 2008, only to experience the painful effects of  the recession.  Thus far, Rodriguez has provided plans to utilize some 1,200 acres of airport-controlled land for alternative uses. And during his turn at the captain's wheel, he has provided oversight of expanded service from Southwest Airlines and more flights from budget carrier Allegiant Airlines.
He also wants to get the good news out about Indianapolis' hometown airport.
One humblebrag: Indy's airport is among the most environmentally friendly airports ever constructed, winner of the prestigious Leadership in Energy and Environmental Design certification from the U.S. Green Building Council. And it's also the only airport to win LEED certification for an entire terminal campus.(In fact, the Midfield Terminal campus, at more than 1.2 million square feet, is among the largest projects ever awarded the coveted distinction.)
At the risk of appearing clichéd, Rodriguez says, he finds something different about life in the Hoosier State.
"This level of hospitality, that will make the difference," he said. "That's why I'm enjoying it here, and everywhere in Indiana. People are nice… call it humility, Hoosier humility."
That humility, expressed in the desire to provide good service, is, in his opinion, what has placed Indianapolis International Airport at the top of the list time and time again.  For example, earlier this year, the Airports Council International, named Indianapolis the best airport in North America.
"That's why this place wins awards year after year after year. It has nothing to do with the brick and mortar. I'm an engineer. You can pour, as much concrete as you want and there are buildings that are huge, and the customer service is horrible on the inside," he said.
During his tenure with the IAA, Rodriguez has supervised several growth initiatives including the addition of low-cost airline Allegiant.
In addition to expanded non-stop flights and airport amenities, Rodriguez says the airport plans to expand in other ways as well.
"We're making a very strong push to increase our spend on diversity when it comes to contracting. It's very important to increase diversity at the airport," he said. " It makes us stronger, it makes us better. It's a positive, strong thing to make sure that we contract in a way that reflects our community."
"The airport is a very good connection back to the community, because there's a sense of place. Once you land, you know you're in Indy," said Rodriguez.
"Indianapolis International is this community's connection to the rest of the world, whether for commerce or pleasure. That really is very important, a vital component of any community."