By Lauren Caggiano 
The arts mean different things to different people.
For some, they are a means for expression. To others, art is a welcome distraction from an often busy and hectic world. Many find entertainment value in artistic work. Regardless of the motivation of an artist or audience, the arts have a way of uniting people across all walks of life.
Arts organizations are often the venue through which people experience culture in some form. American consumers spend nearly $150 billion annually on entertainment and the arts. Though diverse in qualities like size, scope, focus and mission, Indiana's nonprofit arts organizations come together to serve the needs of their community. Artists with roots in Indiana have enriched the cultural life of the U.S. and the world. In this piece, we profile the efforts of three Indiana arts-focused organizations, in particular how they reach and further the cause of minority populations.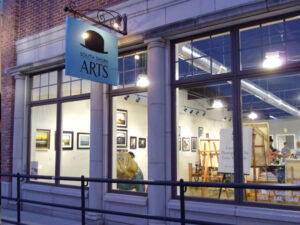 SOUTH SHORE ARTS
Northwest Indiana is ethnically diverse, so it's only fitting that the organization's clients reflect those same demographics. Such is the case for South Shore Arts in Munster. The organization's mission is to champion the artistic identity of the South Shore, which includes 50 communities in urban, suburban and rural settings. They do this through youth outreach, education, exhibits and regional arts services.
According to Executive Director John Cain, some of the diverse populations they serve include African-Americans, Hispanics and Asian Americans. In his words, "It's a real mix of people." The common denominator is youth, though. The hope is that by linking children to arts early on, they will stay interested into adulthood.
One particular program is the hallmark of the organization. 2015 marked the 20th anniversary of the "everykid" program, which began in 1995 with a single after-school scholarship class that brought artistically gifted fourth graders from Hammond to the Center for Visual & Performing Arts in Munster once a week. They were nominated by their teachers, and the first class served 30-40 students. 
"We soon discovered that we could reach many more students by taking our instructors and supplies directly to them," said Cain.
And soon the program developed into what it is today. The organization commissions artists to provide instruction at participating schools, social service agencies, and municipal parks and recreation departments, to provide these programs primarily in underserved communities.
"Last year, by partnering with schools and youth-serving agencies, we served over 30,000 students from throughout Lake and Porter counties, south suburban Chicago and as far south as Rensselaer, Indiana," he said. "Although the programs under the "everykid" umbrella are diverse in content, they are unified through the goals of arts accessibility and youth empowerment."
Another venue for championing diversity is on-site exhibits at the South Shore Arts Gallery located at the Center for Visual and Performing Arts. Just as they reach diverse audiences, they are also furthering the cause of minority artists. Cain said his organization is very "conscious of culture and race." To that end, they have displayed the work of Latino, African-American and Asian American artists.
Cain cities a specific example of the 2010 touring exhibit "We Are The Ship: The Story Of Negro League Baseball," which illustrated some of the greats of the Negro League. Their next presentation will be Motown vs. Chi-town: The Indiana Connection from the Chicago Blues Museum.  The exhibit will be a historic and cultural survey based on the Chicago music scene of the 1950s-70s as it relates to Detroit's Motown Records and the company's early beginnings in Chicago, Bronzeville and Northwest Indiana. 
Just as art can be a cultural force, Cain reminds readers that there's also an economic development piece that shouldn't be discounted
"It's about transforming communities and individuals at the same time," he said. "Art operates on several levels."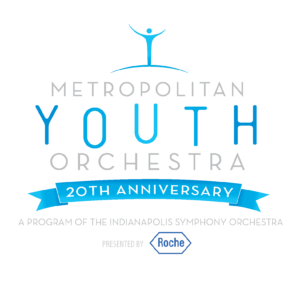 INDIANAPOLIS SYMPHONY ORCHESTRA
  While Shore Shore Arts promotes visual arts, the Indianapolis Symphony Orchestra(ISO) creates an experience for audiences in central Indiana to be entertained, informed, and connected to others through musical experiences.
 According to Director of Communications Kristin Cutler, it's as much about culture as it is about economic development.
"Having a high-quality professional arts organization such as the ISO is also a selling point for a city," she said. "Whether it's for businesses entertaining clients and recruiting talent, vying for major conventions and sporting events, or attracting tourists, a robust arts community is important for our city."
That robust quality means serving diverse populations. Cutler said they do that through their Learning Community, which is the educational branch of the ISO. The Metropolitan Youth Orchestra (MYO) program serves more than 220 K-12 students from across Indianapolis, and their family members are part of the experience as well.
"MYO provides music education through ensemble work and solo or group lessons, and parents have an opportunity to rehearse and perform with their children through all orchestra levels," Cutler said. "The program is designed to use the life skills learned through music instruction to engage students in activities that discourage at-risk behaviors and keep them committed to staying in school."
To that end, a consistent focus is placed on post-secondary goals. That's why MYO is committed to connecting students and families to other resources to help them reach those goals. Although students of all backgrounds participate in MYO, Cutler said the program has a long-standing tradition of commitment to low-income families who might not otherwise have access to a comprehensive program like this.
Music can do a lot to remove barriers. "As we bring together a culturally and economically diverse group of students, they quickly see that we are all on the same playing field when learning an instrument and other life skills gained through music," she said.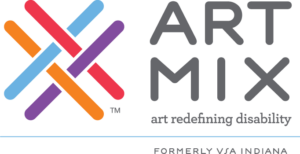 ARTMIX
Accessibility to the arts is another shared theme among these organizations. In the case of Indianapolis-based ArtMix, it's about providing access to the arts to people with disabilities in an inclusive way," according to Executive Director Gayle Holtman. ArtMix is concerned with ensuring that people are often excluded from the arts are welcomed to become artists and makers.
Holtman said while the 1990 Americans with Disabilities Act (ADA) has done a lot in terms of removing physical barriers, there is plenty of room for improvement in terms of attitude and working though stigma. For example, the arts often aren't as accessible to certain groups.
"We want to help people understand what it means to have a disability," she said.
She said people with disabilities are a minority in a way, just like race and ethnicity enter into the equation at times. ArtMix envisions a more inclusive community where the disabled can enjoy the same quality of life as those without limitations and participate alongside their peers.
Speaking of limitations, Holtman is quick to point out that the "disabled" label itself can be more of a hindrance than the actual disability itself.
That's why she wants to reframe the conversation and define people more by their abilities than disabilities. To that end, Holtman said ArtMix has 5 core programs that are year-round, a mix of on and off site activities. For example, ArtMix's Community Arts Classes allow people of all ages and abilities to interact and express through different art forms including ceramics, painting, music, and drama.
Siblings, parents, and friends are all invited to join in the program so that it's as inclusive as possible.
"Once they are in the program, we don't care so much about the disability, but focus on what the students wants to do and how to make it happen," she said. 
TOP 5 THINGS TO DO/PLACES TO GO FOR ART LOVERS
Art abounds in Indiana. You don't have to look far to find options for art-centric adventures. Here are a few must see/do destinations: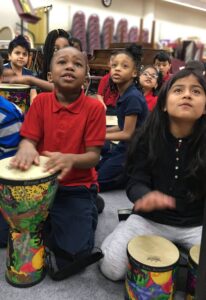 Indianapolis Museum of Art: The Indianapolis Museum of Art is among the oldest art museums in the United States. The permanent collection comprises over 54,000 works, including African, American, Asian, and European pieces. Visit imamuseum.org for hours and costs.
Shakespeare at Notre Dome: Any fans out there of the bard of all bards? This program at the University of Notre Dame strives to keep Shakespeare's works alive with enchanting performances. Each summer the Notre Dame Shakespeare Festival takes over many stages across the community, with performances ranging from minimally staged community events to mass productions with international talents. Find details at shakespeare.nd.edu.
Cinema Center: This art house in Fort Wayne shows independent and foreign films. They even serve beer and wine! See cinemacenter.org for movie times.
Sculpture Trails Outdoor Museum: Art meets nature at the Sculpture Trails Outdoor Museum in Solsberry, outside of Bloomington. Founded in 2002, Sculpture Trails Outdoor Museum has grown to proudly display over 100 large-scale sculptures by artists from around the world. The museum continually reviews work and offers many sculpture workshops and career development opportunities for artists. Visit sculpturetrails.com for details.
First Thursday: Enjoy a gallery walk in downtown Muncie the first Thursday of each month from 5-8pm. Visit muncieevents.com for details on openings, artists receptions and more.
NOTABLE INDIANA ARTISTS
Indiana is home to many talented artisans who engage in a wide variety of crafts. Here's a list of a few to watch:
Bob Anderson, woodwork (Lebanon)
Mercedes Brugh, glass jewelry (Logansport)
Kris Busch, pottery (Bloomington)
Diane Groenert, painting (Fort Wayne)
Al Knight, photography (Lafayette)
Terry Ratliff, painting (Fort Wayne)
Repurposed, recycled leather (Indianapolis)
Lynn Retson, oil paintings (Porter)
Larry Spears, ceramics (Nashville)
Megan Winn, book arts (Indianapolis)