Gary is also showcasing its love of aviation by welcoming an airshow. The airshow, which is organized by the South Shore Convention and Visitors Authority, was supposed to be held at Fair Oaks Farms in 2014, but it was rained out.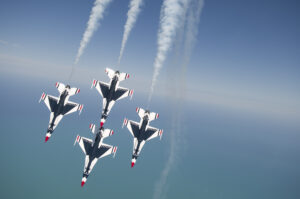 Now, Gary will bring the popular airshow back to the lakeshore this year, on July 11-12, 2015 in the skies over Marquette Park.
In past years, the airshow has included the precision acrobatics of the U.S. Air Force Thunderbirds, and has lured crowds of 600,000 visitors to the Gary area.
Local businesses and restaurants, such as Miller Beach's Market Place, Indie Indie Bang Bang, the 18th Street Brewery, Miller Bakery Cafe, Miller Pizza Station, Flamingo Pizza, and others are hoping their reputations and
bottom lines will soar along with the stunt planes.
The airshow at Gary will be financed by businesses at the Gary/Chicago International Airport and other private sponsors. The organizing committee will include employees from Gary's special events team and airport representatives, said airport spokeswoman Chelsea Whittington.