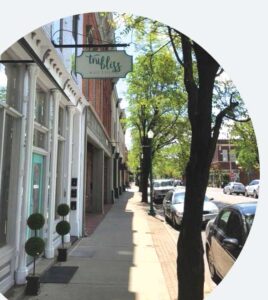 Parents face many important choices about how to raise their kids, but it's also important to consider where to raise them. While Indiana has a number of excellent cities, towns and neighborhoods that provide high quality recreation and public education opportunities, some of them do a better job at diversity than others.
However, this is not something that should be overlooked. It's important for children to grow up and learn with those from different racial, ethnic and socioeconomic backgrounds, according to the U.S. Department of Education.
"Today's students need to be prepared to succeed with a more diverse and more global workforce than ever before," the DOE website states. "Research has shown that more diverse organizations make better decisions with better results."
The following statistics, which come from 2016 U.S. Census data, highlight several Indiana communities that do a great job with diversity on top of providing a great quality of life.
1. Merrillville
In the state's northwest corner, Merrillville's roughly 35,000 residents are 66.3 percent minority. As for education, 91.8 percent of residents hold a high school diploma, which beats the state average of 88.1, and 22.7 percent have completed a bachelor's degree or higher. Median household income of $52,428 surpasses the state average of $50,433.
Merrillville is not too far for a day trip to Chicago or the Indiana Dunes, but it provides plenty of adventures in town. Families can take a tour of the Albanese Candy Factory, swim and slide Deep River Water Park, visit a number of local parks or go on a shopping spree at Southlake Mall.
2. Lawrence
Just east of Indianapolis, this suburban community has about 48,000 residents, with 43.2 percent from minority communities. Although 87 percent of residents are high school graduates, just short of the state average, 32.2 percent hold a bachelor's degree or higher. The median household income is $48,650.
On top of being in driving distance of Indianapolis' attractions, Lawrence is home to Fort Harrison State Park and a number of other attractions.
3. Fort Wayne
In the state's northeast corner, this city of about 264,500 residents is home to about 31.9 percent minority residents. It has 88.2 percent high school graduates, and 26.8 percent possess a bachelor's degree or higher. The median household income is $44,449.
Families can visit the Foellinger-Freimann Botanical Conservatory, the Fort Wayne Museum of Art and the Fort Wayne Children's Zoo. It's not a bad idea to check out the city's namesake; the original Fort Wayne, a large timber-frame structure built by the U.S. Army in 1794, still stands at the intersection of the St. Joseph, St. Marys and Maumee rivers.
4. Jeffersonville
Right across the Ohio River from Louisville, this city of about 47,000 residents boasts 24.2 percent minority residents. Nearly 90 percent of residents possess a high school diploma, and 21.8 percent hold a bachelor's degree or higher. The median household income is $51,130, and only 11 percent of residents fall below the poverty line, compared to 14.1 percent statewide.
Families can enjoy a stroll on the 7-mile Ohio River Greenway, passing by the Ohio River Falls State Park and Widow's Walk, an ice cream, coffee and bike rental shop in a quaint Victorian house.