Indiana home to flourishing film industry, talented moviemakers
By Keshia McEntire
When a filmmaker visits a location to shoot their latest project, they bring economic growth with them. In Indiana alone, the film industry provides 7,018 jobs and $241 million in wages — a lofty sum, but significantly less than our neighbors Ohio (11,660 jobs and $459 million in wages) and Illinois (19,984 jobs and over $1 billion in wages). Fortunately, the ways in which individuals produce and consume media are rapidly changing, and Indiana's opportunity to play a role in the film industry is increasing as more Hoosiers recognize the value of film.
Indiana's impact
There was a time when those who wanted to work in the film industry knew that to have a shot at making it big, they'd have to pack their bags and move to a large city, such as Hollywood, New York or Atlanta. In today's global society, that is no longer the case. Many passionate and successful filmmakers call Indiana home. Hoosiers have started successful production companies, filmed productions that have found their way to television and Netflix and have created web-based media networks. In addition, our state is working hard to promote its resources and locations to large out-of-state production companies.
Two years ago, the Indiana Office of Tourism Development took over Film Indiana, an initiative that promotes the state's assets to filmmakers. Since the takeover, they have put together an online location database and production service directory for the industry.
Amy Howell, who oversees Film Indiana, says despite dozens of Hoosier production companies putting out quality work and many well-known films being shot in full or in part in state, getting large production companies to shoot in Indiana has been challenging. For example, local author John Green's novel "The Fault In Our Stars" was set in Indianapolis, yet producers chose to shoot the film adaptation in Pittsburgh.
Howell says part of the problem stems from the fact that, unlike over 30 other U.S. states, Indiana doesn't offer incentives such as tax credits, rebates and grants to film producers. Pennsylvania, for example, offers a 25 percent tax incentive, plus 5 percent for projects intended for a national audience and filmed at qualified facilities.
"I do think tax incentives would be a good starting point. If you look to see what Georgia has been doing, it's a good model. Georgia has basically built a soundstage in all major cities and has invited filmmakers to come. If they don't have the landscape the filmmakers need, they build it for them. In addition, both the state and city have a tax incentive, so they are basically offering three incentives," said Howell.
Tax break or not, Howell says Indiana is an affordable state to shoot in, citing a Tax Foundation report that explained why Indiana has the best business tax climate in the Midwest and ninth best overall in the nation. In addition, Howell explained, money goes further in Indiana. In California, $100 has an equivalent value of roughly $88. In Indiana, that same $100 is worth $110.
Affordability aside, Indiana has a variety of diverse settings to choose from, including forests, lakes and large cities. In addition, Howell says Indiana is home to incredibly passionate filmmakers.
Our filmmakers' passion for film
There is an organization that aims to unite all of the passionate creatives in Indiana while giving them the tools needed to grow, and its impact is felt on every corner of the state. On a cold Tuesday night in November, dozens gathered inside a movie theater in Noblesville to hear a local filmmaker share tips on promoting and merchandizing productions. The gathering was organized by the Indiana Filmmakers Network, a local nonprofit that helps Hoosiers turn their creative visions into reality.
With hubs across the state of Indiana including Terre Haute, Evansville, Fort Wayne, Indianapolis and Lafayette, the Indiana Filmmakers network offers free monthly meetings to the community, allowing both aspiring and seasoned filmmakers to learn from others who share their passion.
"It's a place that creatives can go to be amongst other people with the same desire. They can learn and grow and be inspired monthly. We have chapters all over the state, so they can build a network between communities. I have friends in Evansville who met new people and are now working with people in Fort Wayne," said Nathan Bechtold, president of the Indiana Filmmakers Network. "I think everybody has a story to share — no matter if they have done one film or 100 films, there is more information that people can learn. (In Indiana) we get a lot of horror and zombie movies, and a lot of Christian films, too. I have noticed a lot of more drama, a lot more depth and more character-driven stories."
Bechtold says the purpose of the network is to allow individuals to build connections so that they are able to learn from and grow with each other.
"People stick with the people they know. In Hollywood, you are not going to work with the same people every time. When you watch (credits at) the end of a movie, it's an army of people who make the product happen," said Bechtold. "If you are an actor, and you only go to the meetings about acting, you are not meeting the filmmakers and the writers. Some writers might like you enough to write a character around you. I have seen it happen, and I've had it happen to me."
To inspire individuals to branch out, Bechtold is organizing a conference called The Same Page Summit, where recording studios, art houses, acting studios, maker spaces and co-working spaces can share their needs and resources with each other. After hosting the summit near Indianapolis, he hopes to expand the concept to other parts of the state.
The film business
While many local moviemakers create films as a hobby, some filmmakers have found ways to turn their passion into a full-time business by creating videos for corporate purposes. Video marketing has emerged as a leading way for companies to influence their target audience, and according to a 2017 video in Business Benchmark Report, the average American business publishes 18 videos each month.
Julie Scher is the president and creative director of Midwest Film Factory, an organization that creates videos to help business clients sell products and services; ​win bids; attract, train and retain staff and more. Midwest Film Factory takes on an average of five to 10 projects each month. In addition, Scher rents out her studio to allow businesses, filmmakers and Youtubers to create their own vision with the equipment provided.
"We have a four-person staff, plus freelancers. I tell the staff we do all this business work to fund our fun stuff," said Scher. "We did the history of a local economic development cooperation, we did a piece about a town and talked about what was special about it; one of the most powerful things we have done is a homeless shelter video that tells the stories of the people who use their services."
Scher says she hopes her business will play a part in keeping talented, creative people in Indiana.
"Some people, when they leave college, they stay here and work with us rather than moving away," Scher explained. "The big trend in Indiana is to create new industries here. Luckily the internet allows people to do video production and editing anywhere and share it, so we are taking advantage of that."
Part of the game
Filmmaker Andie Redwine with By The Glass Productions has a similar vision. Her company, located on a farm in southern Indiana, has worked with corporate clients including Cummins and PBS. Redwine also creates feature films and documentaries, which she says is her true passion.
Despite the state's lack of incentives, Redwine says she wouldn't want to work anywhere else.
"I know a lot of people are saying things like, 'Well, we don't have tax credits,' and yes, it would be really great to have tax incentives to do feature films here, but the cost of doing business here is still relatively low," explained Redwine. "Our studio is on a farm, and I'm looking at beautiful rolling hills; its gorgeous here. A lot of writers want to make it big and retire to places like southern Indiana; I just mixed up the order. You can bloom where you are planted, and opportunity is something you can create for yourself."
Howell with Film Indiana agrees.
"There are dozens and dozens and dozens of production companies in Indiana. The Indiana filmmakers network has so many hubs. They are very passionate," said Howell. "There has become more of a voice out there. I know I am hearing of it. This is a true, creative art that I would like to see more support of, because Indiana wants to be a part of the game."
---
Amy Howell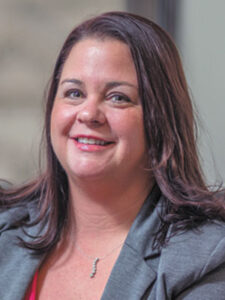 Four-time Emmy Award-winning producer Amy Howell serves as the director of Film Indiana, an initiative within the Indiana Office of Tourism and Development that endorses the state's assets to moviemakers near and far. Howell has 20 years of television production experience under her belt and has previously been employed by WANE-TV in Fort Wayne and WISH-TV in Indianapolis. Since becoming director of Film Indiana, Howell has created and maintained an online location database and production services directory to help filmmakers easily find assets they need. She also organizes networking events, advises local filmmakers and promotes the state's many film festivals to the industry.