By Ebony Chappel
When most people run out of soap, they head over to Target or another retailer to replenish their stash. The last time brothers Mohammed M. Mahdi, Mohammed A. Mahdi and their roommate Anthony Duncan found themselves without soap, they decided to make their own.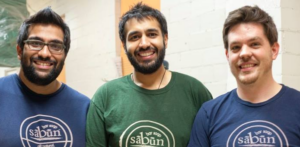 The trio had already worked on a few DIY projects together, and after a crash course through YouTube, decided to try their hand at soap making. They'd amassed enough of the homemade stuff to last them a couple hundred years before ultimately deciding to go into business.
Four years after creating Soapy Soap Company in Bloomington, Indiana, they've received rave reviews and garnered some loyal customers.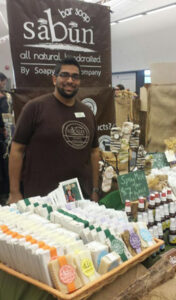 "Right now we're trying to branch out of Indiana and get more into the Midwest and go national as well," said Mohammed A. "That's why we initiated the Design My Soap aspect."
"Design My Soap" patrons begin by visiting the site designmysoap.com, where they choose a soap formula suited to their skin type and then add in essential oils, exfoliants and other ingredients tailored for their specific needs. Visitors to the site can also choose from several label designs and name their custom soap creations.
"The reason we thought it'd be a good idea is because there's nothing like it available online," said Mohammed M. "Whether it's one bar or 100, and you can personalize it to work with your body or skin type."
Duncan says Soapy Soap's key to early success is in listening to customer feedback and taking their thoughts into consideration.
"We had a customer reach out to us and say she needed a soap that was gluten-free, so we went back and checked to see which of their products had gluten in it and modified the formula," he said.
Now, all the products the company produces are gluten-free, vegan, cruelty-free and halal — the latter being a nod to their Muslim heritage.
Mohammed A. said he hopes the company's success encourages a greater sense of community across the state. "I think us being a Muslim-owned company helps expose people to the diversity that is here in Indiana."