By Amber Sapenter
Indiana winters can be brutal, especially when the temperatures don't always remain consistent. Fall vibes on a Wednesday can quickly turn into freezing temperatures by Friday, and just when you think spring is about to break through, here comes an ice storm. Don't get lost in bulky clothing this season — give yourself a winning wardrobe this winter. Let these layered looks modeled by (left to right) Rafael Sanchez, Ericka Flye and Otis Jones of WRTV-6 inspire you to transition your own personal style. Stray away from the dull — adding bits of color shows personality and brings to mind warmer weather and the resurgence of spring.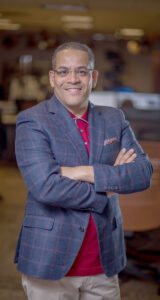 Rafael Sanchez
Reporter/Anchor WRTV-6
For an all-purpose look, couple a modern-fit wool blazer (Saks Fifth Avenue Collection) with a cotton polo (Salvatore Ferragamo) that match the undertones of the blazer. Keep things casual by opting for light-color pants and a stylish but neat sneaker (Falacer Gucci Sneaker).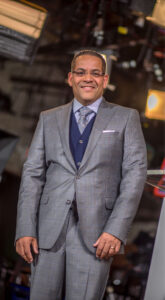 Silver and cool gray are classic winter colors. Choose a gray suit that is accented with an unseasonal color, like purple, and build your layers around that. Skip the vest and keep warm in a knit cardigan instead.
(Saks Fifth Avenue Collection)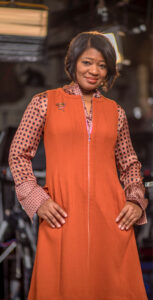 Ericka Flye
Anchor, WRTV-6
Bring your warm weather clothes with you this winter. Pair a solid color, tailored, sleeveless dress with a long-sleeved printed blouse to warm up an otherwise chilly outfit.
(Lafayette 148 New York)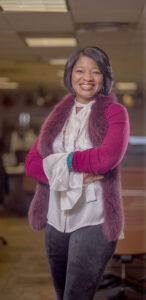 An all-season white tie-neck blouse looks great under any color. Don't be afraid to wear spring colors this winter, but don't abandon your winter textures like faux fur, velvet and suede.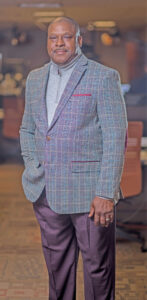 Otis Jones
Photographer, WRTV-6
Feel comfortable both in the office and out with the guys. This blazer is far from traditional; the modern cut has everything you need to be fashion-forward, from berry-colored elbow patches to detailed coat pockets. Pair this with a half-zip sweater, and you are ready for whichever way your day may go. (K&G Fashions)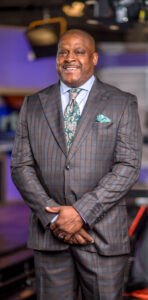 A two-tone dark suit is a neutral canvas, bring your look to life by adding a vibrant tie and pocket square. Pull this look together by wearing a cool-tone shirt to take your look from everyday to executive. (K&G Fashions)
Acknowledgements
Shyra Ely
Bayette George
K&G Fashions
Saks Fifth Avenue
WRTV-6