By Sidney Morgan
The arrival of fall doesn't mean fashion takes a back seat as we dress in coats and jackets to protect us from the crisp, chilly weather of the season. Instead use fall to layer clothing and consider a jacket as an extension of your outfit, giving your ensemble a finishing touch.
A pop of color can take fall classics to the next level and add a touch of summer to any outfit.
As fall turns into winter and the holiday season approaches, keep it festive with sparkly clothes and interesting jewelry.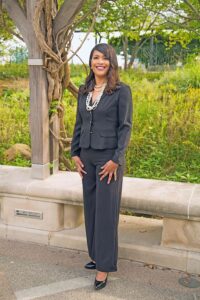 Gladys Owens
Office Manager
Pinnacle Heart Specialists
Create glamour in your business wardrobe by adding two or three long strands of pearls with pearls to a black V-neck, three-button blazer and black wide-leg business pants for a vintage look. A pair of patent black pumps completes the look.   
Take a walk on the wild side with the addition of a zebra print jacket. 
Floral prints aren't only for spring. Get playful by pairing a solid colored shirt with a floral print blazer. Add a fitted, solid color pencil skirt and red pumps for a fashionable look that pops. Accessorize with earrings.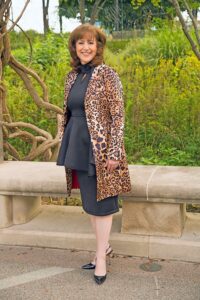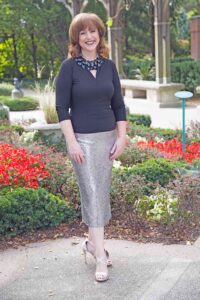 Kim Borges 
Vice President 
Geography Marketing Strategist, Midwest
Regions
Match a black long-sleeve dress shirt — that cinches in at the waist — with a solid black pencil skirt. Keep accessories light with either studded earrings or a single ring. Finish the look off with black pointed-toe pumps. 
Go from work to a fun night on the town by adding  a cheetah print jacket.  
This silver sequenced mid-calf pencil skirt is sure to make a statement. Dress the skirt with a solid colored shirt and neutral strappy sandals for a flirty look. Complete the look with a large neutral-toned necklace.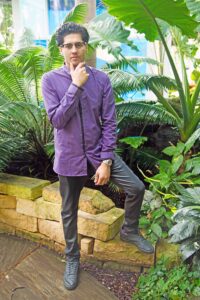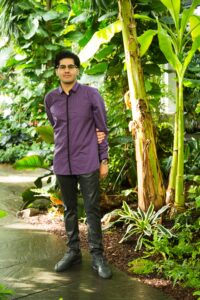 Maisum Ali Farid 
Owner
Chapati
All black suits are not the only way to go. Have fun with your suits by adding a few edgy colors. By adding a bright colored dress shirt under a dark colored suit jacket, you are sure to make a lasting impression. Add a neutral tone brooch to your suit jacket along with a watch and ring for a modern look. Add pizazz to a pair of black leather dress shoes with a pair of colorful printed socks.
Make a statement with solid colors this fall. Pair any bold colored button-up shirt with black straight leg pants for a lasting evening look.  Add a neutral colored watch, ring, or single-strand necklace. Bring a causal feel to this evening look by adding a pair of black leather tennis shoes. 
Special thanks: 
Indianapolis Zoo
William Pride, photographer
Stephanie Dodd, stylist
Pamela Scott, makeup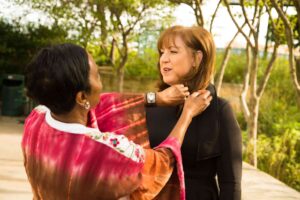 Behind the scene
Model Kim Borges receives some last minute touches before the  photo shoot at the Indianapolis Zoo begins.