Women's Fund hosts Michelle Obama
The Women's Fund of Central Indiana brought a national role model to the Hoosier state for "A Moderated Conversation with Former First Lady Michelle Obama." Jennifer Pope Baker, executive director of the Women's Fund, said hosting the former first lady was "inspiring and empowering." Alicia DeCoudreaux served as moderator. The event will help the organization put $1 million worth of powerful and thought-provoking opportunities for women and girls into the Indianapolis community.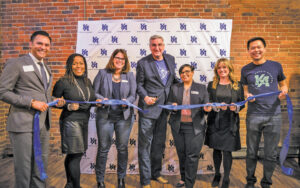 Kenzie Academy celebrates grand opening
Tech apprenticeship and coding school Kenzie Academy celebrates its grand opening. Tech entrepreneurs with years of experience developing and cultivating talent for startups and major tech companies founded the academy. Left to right: Rehan Hasan, Deputy Mayor Angela Smith-Jones, Karen Jung of Nextech, Gov. Eric Holcomb, Tindley Accelerated Schools CEO Kelli Marshall, Courtney Spence and Chok Ooi. Hasan, Spencer and Ooi are cofounders of Kenzie Academy.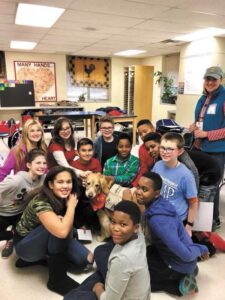 Therapy dogs visit children 
Therapy dogs from local nonprofit Paws and Think paid a visit to children at six Indianapolis area schools. During the visits, a therapy dog handler led a discussion on the importance of therapy dogs to the community.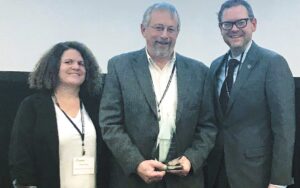 Prosperity Indiana celebrates leaders and innovators
Prosperity Indiana announced the winners of its annual leadership and program awards at The Prosperity Indiana Summit held recently. The event celebrated the leaders and innovators in the economic development field. Honorees included (left to right)Janine Betsey, Merchants Bank; Larry Gautsche, LaCasa;  and Andy Fraizer, Prosperity Indiana.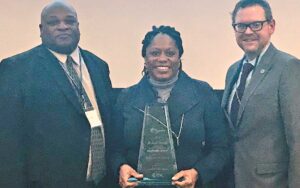 (Left to right) David Stewart, Indiana Housing and Community Development Authority;  Pat Gamble-Moore, PNC Bank; and Fraizer were all smiles.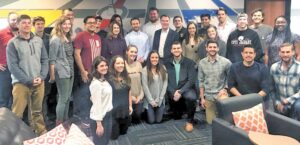 Hogsett tours tech companies 
Mayor Joe Hogsett and TechPoint staff took a tour of tech companies that are elevating the city's reputation as a tech hub. They visited DoubleMap, an organization that enhances public transit rider experience and operational efficiency. The company was listed on the Indianapolis Business Journal's Fast25 for the past two years.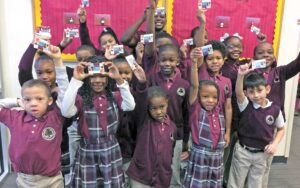 Tindley students receive library cards
Students from Tindley Renaissance Elementary School show off their new Indianapolis Public Library cards. They are among the more than 1,600 students at six Tindley Accelerated Schools in Indianapolis who received cards as part of a partnership with Indianapolis Public Library.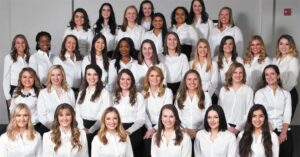 500 Festival Princesses selected
The 500 Festival has announced the 33 women selected as 2018 500 Festival Princesses. The civic-minded, academically driven women represent 14 Indiana colleges and universities and 21 cities and towns across the state. Each 500 Festival Princess will receive a $1,000 scholarship and participate in various Indianapolis Motor Speedway functions and community outreach programs.