By Victoria T. Davis
Hoverboards, virtual-reality goggles and drones have been the talk of the tech industry, but what about gadgets for the average business professional? Indiana Minority Business Magazine dug up five gadgets you may want to keep your eyes on for 2016.
Bluesmart
Said to be the "world's first smart luggage," Bluesmart does much more than your ordinary suitcase. Bluesmart can be controlled from your smartphone using a mobile application, which lets you lock and unlock your luggage in seconds. You can also track the location of your suitcase, obtain weight information and travel distance information that will alert you if you're leaving your bag behind. If you find your cellphone, tablet, e-book or camera losing battery before you board the plane, no problem; Bluesmart provides two USB ports to charge your device up to six times as fast as a traditional charger. Bluesmart can be preordered for $399 at Bluesmart.com.
Petcube
Many jobs in the business sector involve a lot of traveling, but that doesn't mean you have to leave your furry friend behind entirely. Petcube allows pet owners to monitor and even entertain their pets through a two-way audio stream when they are away. Petcube is equipped with a 138-degree wide-angle camera, which streams high-definition 720 pixel video, can connect to home Wi-Fi and is iOS and Android compatible. Petcube can be purchased online at petcube.com or at local Best Buy and Brookstone locations for $200.
RICOH THETA S
The new RICOH THETA S allows users to capture their memories in still images or through video using its high-resolution 360-degree lens. The petite device offers high-definition live video streaming and 8 GB of memory. Still images can be shared to social media with a quick click of a button, and videos can be posted to YouTube. This digital camera can be purchased on amazon.com for $350.
Ring ZERO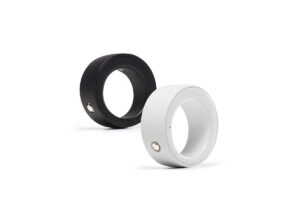 If you've ever given a business presentation and found yourself embarrassed when the slideshow experiences technical difficulties because you've mistakenly pushed the wrong button, those days may be over. The Ring ZERO is a futuristic input device that allows wearers to make gestures simply using their finger. Users can then control smartphones, home appliances and more without ever having to touch the device. The Ring ZERO comes in two colors — shiny white and matte black — and can be purchased on amazon.com for $180.
The Cube
Turn your 5-inch mobile display into a 120-inch display using The Cube. This portable projector weighs less than half a pound and can be used for a variety of activities including: presenting information, indoor stargazing, outdoor movie-watching, sharing photos with friends and family and more. The $299 package includes: Cube mobile projector, flexible tripod, remote control and charger. This item can be purchased at rif6.com/product/cube.