The International Club at the University of Southern Indiana hosted the annual International Food Expo in Carter Hall, University Center West.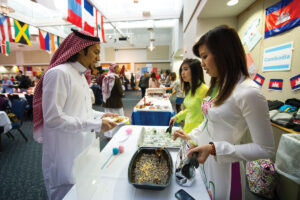 The Food Expo is an opportunity for USI's international students to share culture, customs and cuisine from their home country with extended USI community and the public. In addition to tasting dishes from different countries, participants listened to music from around the globe, viewed global fashions and watched traditional dances performed by students.
This year's event represented over 24 countries including: Brazil, China, Ecuador, France, Iran, Japan, Mali, Nepal, Spain, Turkey and Zimbabwe.
A portion of the proceeds from ticket sales and donated non-perishable food items were donated to the Potters Wheel Food Bank in Evansville.