By Lauren Caggiano 
FOLLOWING A DEMANDING CAREER, it's not uncommon for professional athletes to take a hiatus and retreat from the public eye. But Tamika Catchings, formerly of the WNBA's Indiana Fever, is far from common in so many ways.
Described as Indiana's "do-everything" forward, she completed 15 seasons in the WNBA. This distinction is noteworthy, as Catchings is the league's only player to spend such a lengthy career with just one franchise.
A consummate go-getter, the 37-year-old Catchings proves that a long stint in professional sports can be only just the beginning. In fact, it can be argued that her greatest impact has been made off the court. She is more engaged with her community than ever and determined to improve the lives of everyone her work touches.
A CAREER FOR THE AGES
Equal parts athlete, philanthropist and businesswoman, Catchings is proof that you can do it all and remain down to earth. Catchings says she is the person she is today because of the people who pushed her beyond her comfort zone.
The 2001 graduate of the University of Tennessee retired from the Indiana Fever following the 2016 season, leaving an unrivaled legacy behind her. Catchings said her leave was calculated on her part and well executed to ensure the team was positioned for success after her departure.
"My last year (with the Indiana Fever) was about focusing on my teammates and ensuring the team was led well," she said. "This helped with relieving some of my responsibilities."
Although it was her gain, her retirement was a loss for the team. Catchings is considered one of the greatest women ever to play the game. She entered the 2016 WNBA season as the league's No. 2 scorer. She was named the WNBA's Defensive Player of the Year in 2012, receiving the award an unprecedented five times — in 2005, 2006, 2009, 2010 and 2012. In 2011, she was chosen by fans as one of the WNBA's Top 15 Players of All Time.
Despite these accolades, Catchings remains humble and grounded. Her faith has long been at the forefront, and she's very open about sharing her testimony.
"When I look back at my life, and where I am now, my faith is what has carried me through," she said. "It's crazy, because I don't look at it as it's something separate, but rather that it's intertwined in my being and everything that I am and represent. My faith is what continues to make me stronger and keep me focused through my walk."
LIFE AFTER BASKETBALL
Over the years, Catchings has been laser-focused on her athletic career while still allowing room for other philanthropic pursuits. The media and general public have taken notice. She was given the very first ESPN Humanitarian Award in 2015. Since 2004, her Catch The Stars Foundation has been a venue for investing in the community. This charitable organization provides basketball camps, fitness clinics, mentoring and literacy programs for underprivileged children in central Indiana to help them become successful in sports and academics. That combination of athletics and scholarship is important to Catchings, who is a former college student-athlete herself.
In May, the Foundation hosted its annual student-athlete dinner, an occasion to recognize and honor Indianapolis area high school students who excel in academics, make a difference in the community and participate in athletics. The purpose of this scholarship is to assist scholar-athletes in attaining their higher educational goals.
Catchings said she appreciates the opportunity to honor hardworking individuals who aren't necessarily "all-star" players, but are equally dedicated.
"It's the players that bring a lot of value to the team, but are not always recognized," she said.
The scholarship program allows her to stay engaged with the sport, as does her new role as an analyst on SEC Network.
"I am thrilled for this opportunity to work with so many talented broadcasters at ESPN and to learn from each one of them," Catchings said in an ESPN statement. "As a young girl, I never imagined I would be put in this position. I'm excited to embark on another journey in sports."
Catchings said this position has reinforced the importance of tape. It's important to know the ins and outs of the game and each player's style, she said.
It seems she just can't get away from the sport. In April, it was announced that she had been named Director of Player Programs and Franchise Development with Pacers Sports & Entertainment. Catchings' position will include participation with all three PS&E basketball franchises — the Indiana Pacers, the Indiana Fever and the Fort Wayne Mad Ants. According to a statement from the Pacers, "she will assist with community outreach programs for all three franchises and will work one-on-one with individual players on speaking and presentation skills and the development of athlete foundations or other business interests. A longtime president of the WNBA player's association, Catchings also will assist in the planning and execution of league, NBAPA and WNBAPA meetings, and other team and player programming."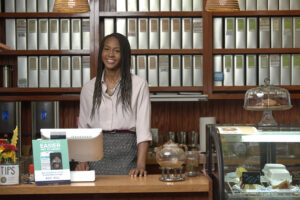 A NEW VENTURE
Catchings said she has enjoyed her post-retirement work so far, despite dividing her attention among several ventures. Most recently, she purchased Tea's Me Cafe in Indianapolis. How she came to purchase the establishment is a story in and of itself. Catchings grew up drinking tea and had been a longtime Tea's Me customer since the place opened a decade ago, but she never expected she'd be behind the counter someday.
The dynamics changed when she learned that previous owners Wayne and Stacey Ashford were planning to close the cafe to move south. Catchings was determined not to let that happen. The parties worked out an agreement, and she took over ownership in February.
Catchings said the cafe, which serves breakfast and lunch alongside its tea selections, offers healthy choices and boasts a "diverse clientele all around." She said she hopes to be able to bring Tea's Me's appeal to a broader audience through franchising in the future. "I am really trying to get to that point," she said.
She also envisions employing high school students to teach them about the entrepreneurial side of business. More than anything, she said she is honored to keep Wayne's legacy alive in serving customers the quality food they have grown to know and love over the years. While a lot has remained the same, she has made some changes to better cater to customers. For example, she has added a few items to the menu to keep things fresh, and she has extended business hours.
Owning a restaurant can be demanding, but Catchings has seemed to strike a balance. When asked about how she keeps it all together, she said, "It kind of takes care of itself." Having great people in the right roles is essential, she added. For example, her sister handles the day-to-day work for the foundation, which helps Catchings focus on her other commitments.
Whether playing sports, engaging in charity work or running a business, Catchings has advice for motivated young women looking to make it big.
"Really, (it's about) just being open to different opportunities that come your way," she said. "I wouldn't be where I am now if I hadn't stepped outside of my comfort zone."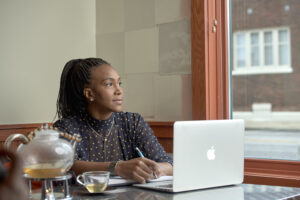 Inspiration inventory
Tamika Catchings shares what inspires her:
God 
My family
Catch the Stars Foundation
Tea's Me Cafe Indy
Being a role model
Tamika's Top 10
Here's a collection of Tamika Catchings' top 10 favorite things and places in Indiana:
Anywhere my family is
Banker's Life Fieldhouse
Diverse events  
Downtown canal walk
My home
Fellow Hoosiers
Innovation happening across the state
New Life Worship Center
Tea's Me Cafe Indy
The Slippery Noodle
Resources for women in business
Women business owners don't have to go at it alone. Here are a five resources dedicated to supporting female entrepreneurs in central Indiana:
Central Indiana
Women's Business Center
111 Monument Circle, Suite 1950
Indianapolis, IN 46204
(317) 917-3266
businessownership.org
Minority and Women's
Business Enterprises Division
402 W. Washington St., Room W479
Indianapolis, IN 46204
(317) 232-3061
in.gov/idoa/mwbe
NAWBO Indianapolis
101 W. Ohio St., Suite 1580
Indianapolis, IN 46204
(317) 608-0250
nawboindy.org
Network of Women in Business
15421 Harmon Place
Noblesville, IN 46060
nowib.com