Whether you're looking to spruce up your living space or participate in a little self-care, Victoria Beaty believes tending to a house plant is the way to go.
Beaty is the owner and founder of The Botanical Bar, a Black- and woman-owned plant store in Indianapolis near the Bottleworks District. After operating as a pop-up shop for two years, Beaty said her brick-and-mortar store, which opened at 1103 N. College Ave. back in June, has blossomed into something beautiful for not only herself but the community.
"I can tell the difference between the excitement of when Black women come in the space versus when any other person comes in the space," Beaty said. "They're really excited to see themselves in the space."
Beaty's journey to plant aficionado didn't begin as one might expect. She grew up in Indianapolis — in a neighborhood near the state fairgrounds — and studied public relations at IUPUI.
She moved around for a while, working for various restaurants, including in advertising for McDonald's, before returning to Indy in 2018 to care for her sick grandmother.
When Beaty returned to Indianapolis, she said she had a new desire to learn farming after realizing she grew up in a food desert — or an area where access to fresh, local produce is scarce or unaffordable.
"I didn't have a grocery store, didn't have all the things that you think, you know, a neighborhood should have," she said. "I really had no concept of how the food industry worked outside of fast-food chains."
She then signed up for an urban farming program through Growing Places Indy, and by 2019, she was the executive director of the organization.
Growing inward and spreading wellness
Beaty said she believes having plants in spaces to create a more welcoming environment was intentional even before COVID-19.
Even when people were at home, they might not have had time to create the space they wanted to live or work in, she said. Once the pandemic kept people indoors, Beaty said people started to dedicate time to a project, home improvement or self-care — including caring for houseplants.
"Because we — none of us had a choice, right?" Beaty said. "We had to sit, and then as we started to come back outside, I think we still were intentional about creating spaces that were saved at home."
Growing up, Beaty said her mom was a hairstylist and would burn her scalp when pressing out her hair.
"I would always go get some aloe and put it on my forehead and cheek or whatever it was," she said, "and so you know early on I learned about the healing properties of plants."
Beaty launched a website for her store, The Botanical Bar, and began operating through pop-up shops and farmers markets in November 2020. She even did a partnership with another Black woman at her shop at Bottleworks for about two years before the desire for her own storefront became too strong to ignore.
"The intimacy of coming to shop for stuff in your home, especially plants, especially living beings, is really an experience that people prefer — at least in this city — to have in person," she said.
The Botanical Bar
Inside The Botanical Bar, guests will find an extravagant array of leafy green plants to choose from, from the beginner-friendly marble queen pothos to low-maintenance cacti and succulents and everything in between.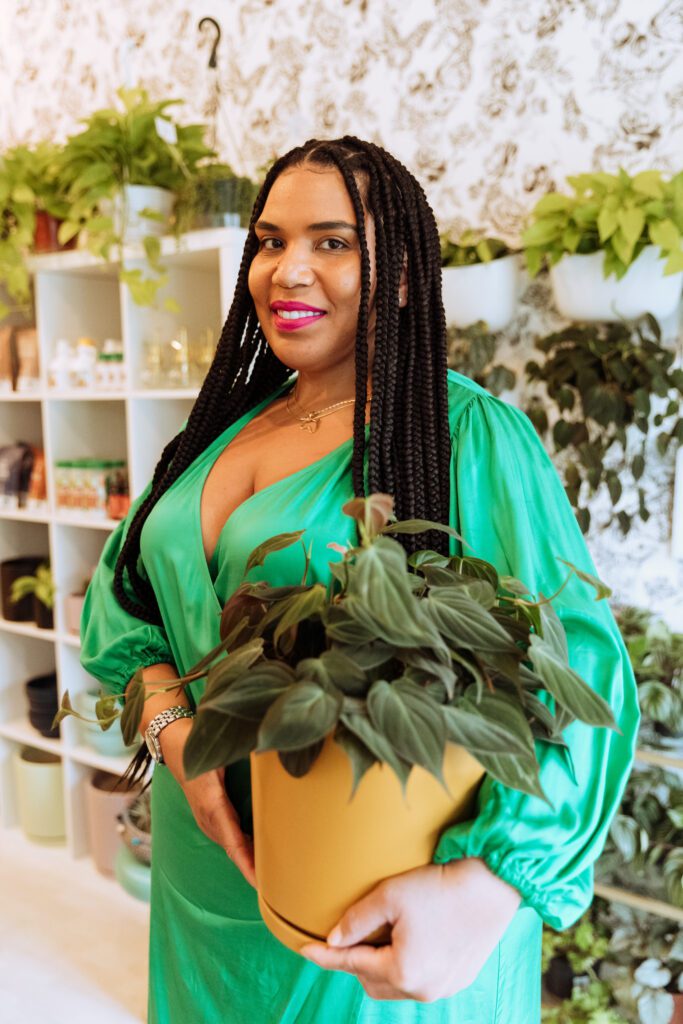 However, the store is also home to goods such as stationary, art, candles, coffee mugs and coffee made by other women of color in the community. From Shaunt'e Lewis' paintings to records from Black artists playing over the store speakers, Beaty said she aims for her shop to be a place that Black women feel welcomed and comfortable.
"When I used to go to plant shops in the city, I didn't feel welcomed," she said. "People often didn't even acknowledge you when you walked in."
This is one of the reasons Beaty decided to open her own shop, making her the first Black woman-owned plant shop in the city, she said.
With The Botanical Bar, Beaty aimed to create a space where people can come in and make a day of picking out a house plant; it's a place where one could come in, chat and leave with a plant feeling uplifted.
"When you're checking in with your plants it's a good time to check in with yourself," Beaty said. "Like, have you had water today? Have you taken a minute to check in with your breath?"
Beyond the plants
Beaty said she stepped down from her position at Growing Places Indy a few months ago to dedicate more time to The Botanical Bar. In the last two weeks, she hosted a crystal workshop targeted at healing and wellness using crystals and plants in addition to a workshop with Lewis where guests painted pots.
Beaty hopes to introduce more monthly events in The Botanical Bar for the community to engage in self-care and wellness together. She also has plans to bring in speakers and launch a project in 2023 called "Let it Grow, Sis" that will allow women of color to take part in events and workshops focused on wellness for free.
The Botanical Bar is located at 1103 N. College Ave. and is open Wednesday through Friday 11 a.m. to 6 p.m., Saturday 10 a.m. to 6 p.m. and Sunday 10 a.m. to 5 p.m. More information about the store and online shop can be found at thebotanicalbarindy.com.
Contact staff writer Chloe McGowan at 317-762-7848 or chloegm@indyrecorder.com. Follow her on Twitter @chloe_mcgowanxx.