How the NGLCC is helping diverse firms find success
By Keshia McEntire
Starting a business is a daunting task for most people, but some face additional obstacles when navigating the corporate world. The United States government has initiatives in place to help minority, women and veteran-owned businesses get supplier contracts with big companies and local, state and federal government agencies. As the number of business owners who openly identify as members of the lesbian, gay, bisexual and transgender (LGBT) community grows, more and more companies are also seeking out LGBT-owned businesses to source products and services from.
If a business is 51 percent LGBT owned and operated, the owners may be eligible to apply for certification by the National Gay and Lesbian Chamber of Commerce (NGLCC). Getting registered as a Certified LGBT Business Enterprise (LGBTBE) allows LGBT business owners the opportunity to compete for contracts in corporate supply chains in the same way as other minority groups.
Jonathan Lovitz, vice president of external affairs at the NGLCC, feels not getting registered is comparable to ignoring free money.
"If you're an LGBT business owner and not certified, you're leaving money on the table that could help your business grow and allow you to give back to our community as a role model, job creator and valued success story of an LGBT person achieving the American dream," Lovitz said.
The NGLCC currently has more than 900 certified LGBTBEs in its database. Over one-third of Fortune 500 companies actively seek out and include NGLCC-certified businesses alongside other minority groups when looking to source contracts. Despite this, many LGBT business owners still do not know the certification exists or how to obtain it.
Two such business owners were Audi Culver and Ivy Siosi, two entrepreneurs who design and craft custom furniture for a variety of clients in Indiana and across the United States. Though they have been business partners for more than four years, they have been partners in life even longer.
"It's kind of a honed skill for the person you love to be the person you work with, but there is no one I would rather collaborate with. There is no one's opinion I respect more, even though every date we try to have turns into a business meeting," Culver said.
The two live and work in Bloomington, Indiana. Their handcrafted creations adorn many local businesses, including Bloomington's Upland Brewing Co.
"Bloomington is a very accepting community, and we would not be here if we did not feel safe. No matter what, it's always on our radar to make sure we are in a safe and supportive community and that we can have a business that we don't feel scared to show who we really are. It's not only that we are gay, but we are also in an older-male-dominated business. We get old guys that are like, 'Wow, you made that? That saw is bigger than you are!' It's just a little patronizing," Siosi said.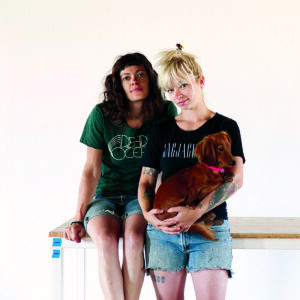 The couple was unfamiliar with the LGBT business certification, but they both feel it can be beneficial.
"I am not very familiar with it. This is really the first time I've looked into or given any thought to that type of certification, but it sounds like obtaining it might be a great networking opportunity," Culver said.
And the networking opportunities are endless, especially considering that, though NGLCC certification is on a national level, membership is on a local level, and the NGLCC works closely with local chambers, such as The Indianapolis Rainbow Chamber of Commerce. The NGLCC will waive the $400 certification fee for business owners who have joined their local affiliate chamber. The local chambers give entrepreneurs a myriad of opportunities to connect with like-minded business owners.
Lovitz said in addition to the networking possibilities, becoming certified promotes a more inclusive form of diversity.
"In no other community can mentioning that your business partner may also be your spouse cost you your livelihood. Too many of our business owners who are intersectional minorities, for example, gay and Hispanic or trans and African-American, are told to hide their sexual orientation and lead with their visible minority. That is why so much of our advocacy work is done in tandem with our partners in other diverse communities, because when we all do better, we all do better," Lovitz said.
Noell and Crystal Allen agree that diverse communities need to work together. The couple is passionate about the economic empowerment of all minorities and have dedicated their lives to encouraging others to follow their entrepreneurial dreams. Noell is an attorney with a background in business, while Crystal is a certified public accountant. Driven by a desire to assist small business and entrepreneurs with reaching their goals, the couple founded A Total Solution CPA & Consulting Services in 2005. The company provides services including tax and accounting services, legal advice and business development.
"It was really out of a desire to assist small businesses and entrepreneurs with establishing success. Our intent was to serve our community at large. What our clients appreciate about our team is that we are professionals and knowledgeable. We just happen to be in a lesbian relationship," Crystal said.
The couple is currently in the process of obtaining LGBT Business Certification from the NGLCC.
"You have to provide documentation showing you are a legit business, but you also have to prove your 'gayness,' so to speak. You can do this by showing a marriage certificate or your affiliation with a local gay chamber of commerce," Noell said.
Noell thinks minority-owned businesses supporting each other is beneficial for all and has advice for corporations considering getting certified.
"The benefits of the certification outweigh any reason not to. Do not let fear of being discriminated against stop you, because corporations understand the importance of empowering LGBT business, hence the growing desire to partner with the LGBT community," she said. "It's important that minority-owned businesses support one another. When we pour our money into our community, we build wealth that can transcend generations."
For more information on how to obtain LGBTBE certification, visit nglcc.org.
NGLCC's four easy steps to LGBTBE certification
Visit my.nglcc.org to complete the online application process. You will need to build your business profile and submit supporting documentation to verify your eligibility for certification.
Once your application is complete, your regional manager will schedule a site visit to verify the information submitted and to learn more about your long-term business goals.
Your application will be reviewed by the National Certification Committee.
After receiving confirmation on the approval of your application, participate in an LGBTBE orientation webinar.
If at any time you need help during this process, contact the NGLCC SDI Team at (202) 234-9181.