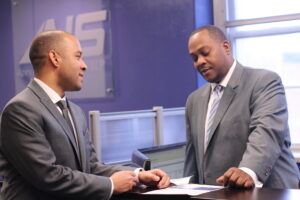 By Ebony Chappel
Maintaining a sound technological element to your company is an integral part of any businesses success. Unfortunately, it is one need that many small to mid-sized businesses seem to neglect, primarily because of a to lack of industry knowledge and limited financial resources.
According to a survey released by multination electronics company Brother International, the technology tides are changing as 72 percent of owners who were surveyed shared that they anticipated receiving a greater return on investment from new technology than new employees. On the other hand, 63 percent of respondents admitted that they feel overwhelmed at the amount of technological solutions available to them.
Cody Rivers, COO and Lamont Hatcher, CIO of Indianapolis-based technology firm Apex Infinite Solutions (AIS) share their company's success story as well as offer insight into technology problems many small to mid-size companies encounter.
IMBM: How did Apex (AIS) come about? How long have you all been in business?
Hatcher: We got started in June of 2012. I come from a pretty extensive consulting background and after a while you know; you just decide it's time to go out on your own. At the time I was working with Cody at E Source. I pulled him on in and then we (began) Apex.
What were you all doing at E Source?
Rivers: We were specializing in enterprise consulting at the IT standpoint. We saw a niche for bringing those enterprise IT solutions down to the small to mid-sized business space at a cost that was more suitable for this market.
How has AIS grown since you originally started the company?
Hatcher: AIS has been blessed to grow exponentially since inception. We've grown from one office in Indy to an office in Florida, as well as, DC.  Our company projections state that we'll double in growth by the end of 2015.
That's considerable growth in a couple short years. What does your clientele list look like these days?
Hatcher: We have clients in Massachusetts, Kentucky, DC, Florida, Illinois, Ohio, Michigan, and of course, Indiana. These clients range in size from 5-250 in size.  The majority of our clients are in the construction, as well as, the not for profit industry.
Why Information Technology? Why is that something that the both of you are so passionate about?
Rivers: It's an art for me and I like to see the things that we do help businesses become more efficient and profitable, as a lot of our focus is on the revenue generating benefits. IT just came naturally to me at a young age. Lamont is actually the one who got me started when I was 10 so he has built me up. I guess you could say I graduated from the Lamont Hatcher University of Information Technology. I've always gotten satisfaction from making businesses more efficient and allowing them to focus on what they're good at so they are not worried about things that are outside of their expertise. For instance, I know my strength is not legal or accounting so that's the approach we take with AIS. We want people to focus on running their business and not the IT stuff.
How did you all meet?
Rivers: Lamont worked with my father at his IT company in the early 1990s and I was a little rambunctious 10 year old that would come in the office with dad and wanted to learn IT. Lamont wasn't too much older than me so he took me under his wing and showed me the ropes. He's been there as a mentor to help guide me and show me which route to go and to this day I'm always learning something new from him.
What was it like mentoring Cody?
Hatcher: It's easy to mentor people who want to learn. He did the work; I just gave him the opportunity.
What does it feel like everyday to come into the office and do what it is you love?
Rivers: It's amazing. Everyday is something new. This is probably one of the fastest changing industries and if you don't stay up on your game then you fall behind very quickly. It's a constant seesaw so we're always trying things out ourselves first to see what works and doesn't work before we present anything to our clients.
What sets AIS apart from other IT companies?
Hatcher: What sets AIS apart from other IT companies is our customer service, process and progressive use of technology.  We were recently ranked one of the top 5 MSPs (Managed Service Providers) in the U.S. based on customer service. We understand that our clients are the reason we exist and we treat them accordingly.
Tell me about the services that you offer small businesses?
Rivers: What we try to do is act as the IT department for a smaller company. We are the support desk, the consultants, the solutions. (We are) an IT on demand executive without the salary that such an employee would demand. We give companies the strength of a department at a price level that is attainable for them and their needs so that they can continue to grow their business in a scalable way.
So, let's say I'm a small business owner and I give AIS a call looking for some assistance. What is one of the first things you would do for me?
Rivers: We look for pain points. Similar to what would happen at a doctor's visit. We assess the damage, look at the areas that need fixing, and determine what needs to be resolved immediately. From there, we would put you on a fitness plan so to speak to keep everything running and maintain the current state. We're big data heads and we love data and reporting so we use the info from all the computers and servers to assess, optimize, manage, and report on the network.
Is there a particular system problem that you generally find your small business clients have when they initially secure your services?
Hatcher: Most small businesses take a 'reactive' approach to dealing with their IT company.  Our service offering philosophy takes a 'proactive' approach to dealing with issues.  Our model and processes allow us to deal with most of the daily issues before we receive the call.  It allows the client to focus on growing their business and not worrying about whether the network is running correctly.
What are some of the biggest IT issues that you see companies experience?
Rivers: Using too much money on the wrong solutions. We eat, sleep, and breathe IT so we know what's out there. For someone who doesn't have that background, they see 1,000 solutions available. We come in with our knowledge of what works and help them put the right dollar amount towards to right solution instead of wasting resources on the wrong solution – we try to guide them through their IT journey to help eliminate some of those falls.
Why do you feel some businesses neglect to spend the money needed to address their IT needs?
Rivers: I compare it to the human body sometimes, as far as health care is concerned. Unless you're actually aching, you're not going to look for issues. The same concept works for IT – by not thinking ahead, you set yourself up for those situations of unplanned downtime. Something may crash at a critical moment. The last thing you want is to be in the middle of a big project and something go wrong and you not know about it. Now at that point, you're losing money and that becomes an even bigger issue. So we try to be proactive and reactive to catch those areas. We watch your back.
What are some of the ways that a company can benefit by upgrading their current system with AIS?
Rivers: Off the top, you're going to have a fixed price as far as IT services are concerned. Its almost like insurance, if something goes wrong your price is not going to change. Customer satisfaction and employee morale are also other benefits of an upgrade that can eventually result in an increase in income. Then there's always that guy that gets stuck doing all the IT related tasks around the office, not because he's qualified necessarily, but because he knows a little bit more than anyone else. In turn, he ends up spending his time doing a task that he was not originally hired to do thus neglecting his primary responsibilities. By hiring a company like ours, you're helping people to be more productive and efficient in the workplace.
What are your plans for the future?
Rivers: We want to establish our name in the community and continue to grow our brand. We've never lost a client so we want to continue that. Customer satisfaction is number one for us. We love to see our solutions grow our clients' business. The more successful they are, the more successful we are.
Starting a company is a bold step. What advice do you have for aspiring entrepreneurs?
Hatcher: We read a lot of books, blogs, forums, etc. and stay involved in a lot of business circles.  One thing we always say to each other is to stay hungry and don't get comfortable.  That hunger will drive growth and force you to evolve while improving your product.  "Do what you love to do and you'll never work a day in your life".  While it's a totally cliché, it's very true.
For more on Apex Infinite Solutions, visit aisllp.com.